'THEY WANT TO DESTROY ME BUT I'VE REGAINED MY FREEDOM',EMBATTLED EX PMAN PRESIDENT,DELE ABIODUN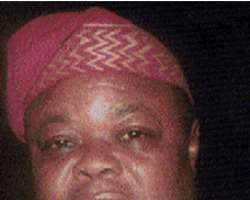 Performing Musicians Employers Association of Nigeria(PMAN) President, Admiral Dele Abiodun,was said to have spent days at Ikoyi Prisons over a scandalous allegation of #16 million fraud at the troubled music house.
Implicated by one-time PMAN president, Tee Mac, Dr. Zimmakoy and veteran musician, Emma Ogosi in a suit before Igbosere Magistrate Court, Dele Abiodun was remanded in Ikoyi Prisons by Justice F.O. Aigbokhaerbo the first day the case was heard.
The juju crooner actually admitted spending hours in prison because he was not able to meet up with his bail conditions that fateful day(Dele Abiodun and two other suspects,Akinnehin Idowu and Kunle Ponnle were to regain freedom in the sum of #1million by two prominent Nigerians working in a reputable organization).
All were arraigned on a seven-count charge of fraud and misappropriation of the union's funds.
Meanwhile, the embattled ex PMAN president, who recently resigned, following the weight of allegation of fraud against him has alleged there is a grand plot to destroy his person and integrity as a notable musician.
"It is Tee Mac that is fighting me for humiliating him out of office. Their allegation is baseless and unfounded.
I don't want to talk about a matter that is already in court. It is a union affair.
They want to destroy me, but they won't succeed. I am a warrior. It is not a personal fight.
Some of them have not performed in the last 20 years", Abiodun said.