And Your Music Meets Runway Hosts For The Evening....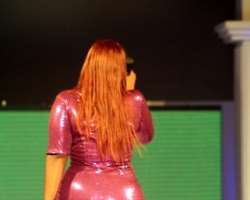 ... Award winning RnB Artist Banky W and On-Air personality Tolu Oniru, aka Toolz. The public wondered who the host of the highly anticipated fashion show, Music Meets Runway, after American model Amber Rose, originally billed to host the show, had tweeted that she had "no idea about any appearances" . The organizers of the show were pleased to bring on board Toolz, radio host and personality of The Beat 99.9fm to co-host the show with male RnB crooner, Banky W, aka Mr. Capable.
It was a perfect match, as the chemistry between the two hosts was clear. Miss "MEGN - Most Endowned Girl in Nigeria", as Banky fondly referred to his co-host, had limited time to rehearse, yet she was graceful and articulate in hosting the show. Both of them did a brilliant job anchoring, but of course it would have been quite difficult to take ones eyes of Miss Toolz in that form-fitting red dress.