Actor Jerry Amilo Disrupts Banking Activities...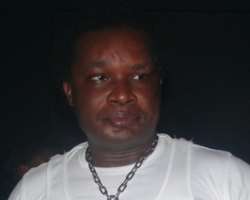 An Olofofo walked into intercontinental bank at 4th avenue festac town on monday june 20,2011 to make some deposit and guess who the Olofofo ran into?..... actorJerry Amilo!
'' He came in with a young boy about 15 years amd was overheard telling a friend of his that he met in the bank that it was his son, the friend doubted, but he said it was his, speakiing in Ibo"man don dey old nah",he said he had been in Barcelona and would be going back in two weeks, both of them exchanged numbers after he told his friend he had misplaced his phone and couldnt get back his contacts.
Meanwhile the cashier in the bank was attending to someone and it was about 4pm, and he nicely told mr Jerry that he should move over to the next counter as he would like to tidy up his book for the day.that was when jerry exploded and used every unprintable word in the book''
According to the Olofofo,Jerry practically exploded ,screaming
''what do you think is wrong with you, do you know who I am? what f**king sh**t is this( pointing to his son and screaming at the old cashier) this is my son, are you up to his age? If you are not careful, I will go upstairs and talk to your manager to sack you, whatt f'**king nonsense, in short I am closing my account to open a new one with UBA''.
The Olofofo continues''people kept begging him to cool down because he was becoming too loud and disturbing the peace of people around, at the end of the day, the head of operations of the bank had to come down herself to attend to him ,it was really sad to see someone showing off their supposed status so shamelessly'',

Jerry are you back to Barecelona?
Please where ever you are reading this from remember that ''those who humble themsleves will be exalted and those who exalt themselves na disgrace them dey get''.