WENGER DEMANDS HALT TO FABREGAS TALK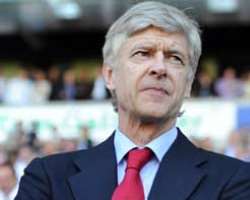 HANGZHOU, (AFP) - Arsenal boss Arsene Wenger on Thursday demanded Barcelona players stop making public comments about Gunners captain Cesc Fabregas wanting to leave for the Nou Camp.
The Frenchman was speaking after Barcelona midfielder Xavi took to the Spanish giants' website to say Fabregas was unhappy and wanted to return to the club he supported as a boy.
Arsene Wenger Photo: Arsenal.com
'It has to stop of course,' Wenger said at a news conference ahead of a pre-season friendly in China.
Fabregas, 24, has stayed behind in London as he recovers from a muscle strain.
'If there's a transfer negotiation between two clubs, I don't think it's healthy that some other players are involved who are not concerned by it.
'Unless he has an official job to do for Barcelona … I don't see why he can go on the website and make this kind of statement,' Wenger said.
Wenger and his squad were welcomed by a sea of red jerseys as hundreds of fans turned out to greet them as they began the club's first visit to China in 16 years on Thursday.
They take on Hangzhou Greentown in Yiwu, a city 300 kilometres (180 miles) south of Shanghai, on Saturday, in the second leg of an Asian tour that began with a 4-0 win over a Malaysia XI on Wednesday.
The Gunners have trained in Austria ahead of every season since 2001, but are in Asia this year to expand the club's brand and fan base in the lucrative market.
Fans outnumbered journalists at the news conference, and Wenger was peppered with questions ranging from whether he would sign a Chinese player to whether traditional Chinese medicine could help the team's injury problems.
Wenger paid tribute to Patrick Vieira, who has announced his retirement from the game at 35 and will be remembered for leading Arsenal to an unbeaten Premier League campaign in 2003-04.
'You can only have lot of respect for what Patrick has achieved,' Wenger said. 'His career is sensational. He was an exceptional player for us.'
On the transfer front, a question mark also hangs over midfielder Samir Nasri. Wenger has said he is so keen to keep hold of the French international that he is prepared to risk losing the him for free in a year's time.
Nasri has been strongly linked with Manchester City and Manchester United.