Wedding bells; Let my fans decide when — Muma Gee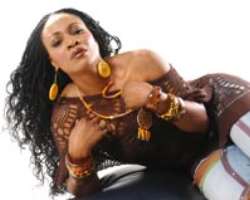 Chief Gift Iyumame Uwame, aka Muma Gee
Who says one cannot be a Jack of all trade and master of all, then check out the profile of Chief Gift Iyumame Uwame, popularly known as Muma Gee.
This Theater Arts graduate is well known for her traditional music genre with a blend of westernized contraption which seems to be a trend in the music industry.
In this chat with Aramide Pius, pretty Muma Gee speaks on her career as a singer, her new passion for the clothing line which has taken her into the men's under wear production, her chieftaincy title and its challenges and her love life. Enjoy:
What has been happening to you of late, you have been at large?
I have been very much around in and out of the country, work in the studio; I am recording a new album.
What is the title of the album?
I don't want to talk about it for now but my working title is Love.
What prompted that title?
I just figured out that there are lots of love songs in the album. May be I am learning the rules to falling in love. (Laughs) and it is finding interest in my song writing, may be, may be not, well I am not sure.
Tell us about your love life, I can see you are glowing?
(Laughs), nothing really, it is God and if you are happy in life, it will definitely reflect in your looks and that is why it looks like I am glowing. All might not be well, but I thank God. The truth is that when you find yourself doing what you enjoy doing, you will glow. I am happy, I am happier person now because I have this flair for fashion and I just started my clothing line which is known as Mgee's confidence and it is a thing of joy. It gives me that fulfillment,and I feel so satisfied, because I am doing what I really plan to do in life and I enjoy doing, that is what I think is responsible for the glow.
Why male underwears of all diversity of fashion?
That brings us to that question, everybody keeps asking me why male underwears or are you trying to send any message across? No, I am not, it's just what I see myself designing and I am not doing badly in it. It is crazy yes, but I have been doing it and I am enjoying it.
Would you say your image as an artiste has helped boost the fashion business you are into?
My fashion business only just started and the whole idea is centred on my image as Muma Gee, so I will not just say it is boosting it, but it pioneered it so I have to respect that.
What about the Nigerian Music Industry, how would you rate it, are we meeting up?
It is fast growing and I appreciate the fact that the audience are a bit more patriotic than they used to be, you find that there are radio stations where they don't play foreign music like WAZOBIA Fm, I give kudos to them, I respect and I like what they are doing and we have loads of other radio stations that are playing other music but they give priority to Nigerian music, kudos to them, they have done well but I am afraid that we are tilting towards just the hip hop thing which I am really surprised about, forgetting our own folk songs, forgetting our traditional songs, forgetting our own highlife that we used to enjoy which is our culture basically. That brings us to the fact that people like us who play traditional music don't probably get the sort of attention that someone who does hip hop does have.
We are not envious or whatever but I am just begging Nigerians to pay attention as well as they pay to hip hop songs to pay attention to African music which is our own original thing. Hip hop migrated from Africa, we are glad is back in Africa, but we should not give irrelevant attention to our own traditional music, high life and the Afro beat and all that... because that is our heritage as well.
Your look on stage, is that your signature because you are not looking like the Muma Gee we see on stage?
(Laughs), for Christ sake, I am in my office working. The thing is that Muma Gee as an artist is different from the Muma Gee as a staff of the Black Attraction Productions Limited.
So who is the real Muma Gee?
The real Muma Gee is the Muma Gee that you see on stage, but now you are seeing Chief Gift Nwame so basically I am a different person when I have to sit as the CEO of Black Attraction productions Limited or the MD of MGEE's Confidence which is my clothing line, so they are two different persons. If you are not very dear to me, I will never let you see me like this.
What was the experience like when you were coronated as a chief?
It was something I could not imagine, it is difficult to say because it is weird, it was out of the world, it is the strangest thing that has happened to me as a human being. If you take your bath and wear make up like you do now, you know that your counterparts use make up, you know I wear lip gloss and all that, but if you come from a setting where women are never chiefs and you are made a chief, Jesus Christ!
It is gone beyond normal, if there is a Guinness book of record in Africa I think it should be in it. Actually that chieftancy came with a little bit more than what I expected, you know the responsibilities are more than what I expected. People just think it is easy, it is actually more than that.
Can you share some of those challenging responsibilities?
You know you have to meet up to their expectations, people see you and they want you to assist them one way or the other.
They look up to you. Now I am not married but I do conflict resolution for married couples, couples that want to divorce, when I talk to them one way or the other, sometimes they reconcile, sometimes, it is not reconcilable, you also do your best as humans and just leave the rest for God. You know dabbling into things like that is more of a responsibility than just being a chief.
So as a young person, you are attended to or you are seen as a big person. For instance, in my village where I come from, I am not just a chief of my village, I am a chief of my community, like a clan so I belong to the council of chiefs of that clan.
In my village, I was the only coronated chief or person in the past ten, fifteen years, so there is this problem about chieftancy, whom to give and whom not to give and about who is qualify to be a chief and there has been this tussle until finally early this year when they agreed to have a chief and they wrote me a letter to be the mother of the day. Jesus, how can I?
I am only going to be thirty by November, and I will be mother of the day for old men who are like fifty, seventy, oh my God! You know you are like placed larger than life so it is scary sometimes, it is really scary.
But what can we do, I am there, so I was persuaded to go and I actually went and became the mother of the day for the coronation of our village chief and it was not a little responsibility but God saw me through it. So that is how it goes.
Your age mate look up to you like even if you are age mates, you are above them in status and that does not really help amongst your mate and all that. So here is even better for me because I don't practice chieftancy here.
Here it is just me and my singing and my dancing and my choreography like every other artist, drive on the street like every other artist and I just move about like every other artist. In extent, I don't let all these get into my head, I am me, I am still the ordinary me.
How did you come about your stage name, Muma Gee?
People mistake it for a guy name or a nick name. Gift is my real name and the G in Muma Gee. Forget the fact that I added double' e' to it, just as it sounds Gee, but the 'G' is just the G in Gift and then Muma... the Jamaicans will call mother Muma and papa Pupa. The Muma in my name means 'do good' in my language.
Muma while the Ibos will say Mioma, in my language it's Miuma so Muma means do good. So that is how I arrived at the coinage Muma Gee.
How are you enjoying stardom?
I have not started, this is just a working stage and by God's grace I will get there.
What is your regular day like?
Busy, tough, tough in the sense that some days are not just enough for you top achieve everything you plan top achieve and then you have to carry over and then tomorrow comes with another responsibility and you have to add up the carry over, sometimes it can be terrible.
And sometimes it can be relieving because if I go to the studio and back, and that permits me not to work in the office because I worked in the studio all night, so I will have to sleep like wee hours of the morning and wake up in the morning and get down to the office because my system is already used to waking up early. The good thing is that I don't have to drive, face the traffic and all that.
My office is here and if I have to do rehearsals I have my band studio and my band member just come around and we do rehearsals.
Could the nature of your job be fully or partially responsible for your still being single because with all these you have said, I wonder what time you have lefty for yourself or any other person?
Well, I do have time to make up, I have time to eat, I have time to take my bath, I take good care of myself and I pamper myself because I don't smoke and I don't drink so I enjoy myself.
For instance if I have to take my bath, I don't mind lighting up scented candles around my bath, fill it up with water, put foam bath, foam it up, put myself inside and read novel (Laughs).
I create time to do all that but not all the time, it comes rarely especially when I am not working because I need to work double hard to be able to sustain the kind of life style I want to live, I am not talking just for now but in the nearest future.
So what is your dream life style?
My dream life style is to live the life of a celebrity, (Laughs), you know, live in a very comfortable atmosphere, a different and clean environment. The most important thing is clean environment as you can see, even though it is not very expensive, but it is clean, I like things being done orderly and that is just me.
When is the wedding bells going to ring, your fans are waiting?
(Loud laughs) okay let the fans decide when, I am ready. Yes, anytime they are ready, I am ready.
But they are not in the position to?
Yes, I am giving them the obligation to.
Are you saying they can apply?
Well, it is open, if any of my fans wants to apply, it is open.
How do you cope with advances from your male fans because I know they must be coming in gross?
The thing is that firstly, I don't let myself so loose, so they don't even get to see me on the street, may be at programmes.
I attend programmes that are very much relevant because there is no time for me. I will just go there for the business and get it done and that is all. Once in a while I go out but I don't even wear the look that will encourage you to come talk to me. Few of them manage to get my phone numbers, I don't know how but I get to talk to them and I tell them in black and white what life is all about.
So it is not that I am suffering or I am stucked and all that although sometimes they stuck you and you have to change that line or switch off that line for a while or bar some calls and all that ,but it is all about being a woman.
You always see being a woman as an art so the art of being a woman is something I love to enjoy and if I come back again, I will want to be a woman.
Who is your role model or don't you have any?
Any successful woman is my role model. As you are sitting in front of me now, if I tell you that you are my role model, you will think I am flattering you because how many of your age mates now are in the bush farming, they don't have a dream but you are living your dream so you are my role model because I want to live my dream. So every woman that is living up to their dreams is my fan.
Do you have any memorable experience, may be as a growing child or as an adult, something that you find very remarkable?
The most remarkable thing that have ever happened to me in my life is performing on the same stage with Mariam Makeba at the London Festival Hall. It was fun, it was like a dream come true, that was the height of my joy, performing on stage.
What is your favorite food?
My favourite food is my stable food and that is fufu or Apu and I love African native soup like the Rivers native soup, I love Afang and Edikaikong but I prefer Edikaikong because of the vegetable. I also love this Yoruba soup called Ewedu and then in the North, I love miakarikashi.