OUR SERVICES AND PRODUCTS DIFFERENTIATE SKYE BANK FROM OTHERS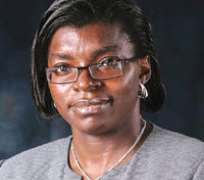 By Babajide Komolafe
The management of Skye Bank recently flagged off a promotion tagged 'Skye Bank Savers promotion, can you explain why the Bank is coming out with it at this time?
It is the first time we are having a mega external promo and we want to drive people to save and we want to reward loyalty. It is in our interest as individuals to save money and make provision for the rainy day.
Mrs rinola Kola-Daisi, MD, Skye bank
Through the promotion, we are building our business as it would help us to boost our customer base. For people who have been saving with Skye Bank for a long time, this is the right time to save and have an opportunity to win something in return.
We are paying attention to our individual savings account because there are four categories of accounts for this promo.
We have a Skye savings account which is a generic savings account, referred to as a standard savings account. With the way the promotion is structured, we have defined people based on what suits them. A lot of people complain about the level of documen-tation in banks.
But we have the Skye Treasure account which does not require docu-mentation, is a bit flexible and is useful for traders, artisans and people country that may not have passport or driver' license.
We have the Skye Rainbow account, which is a core children's savings account. With this, parents have the opportunity to start encouraging their children to start saving from childhood. That is, inculcating financial savings and discipline in children.
A lot of time, parents pay stipulated amount in the account of their children. Who knows? It might be one of the holders of children account that would be a lucky winner of our Prado jeep.
The fourth individual savings we have is Skye Wise Account. This is what we call in banking, a hybrid account because it also has features of a current account.
The savings give you the privilege of earning interest and we allow people to pay a cheque or dividend warrant into the account through the promotion, with the provision that you must have a reference book.
You know, with most saving accounts, you have to go to the bank yourself. Skye wise account allows you to pay a third party across counter. You can give your own cheque to somebody without going through clearing. These are added advantages for our customers.
Those are the categories that are eligible for this promo and of course, we are rewarding our customers based on this.
What is the require-ment for participation?
It is open to existing account holders and new account holders. For the new account holders, you open an account with a minimum of N25,000 with an opportunity for multiples of that amount.
The more deposit you make, the greater your chances of winning. Deposit represents an opportunity to win.
If you are an existing account holder, a multiple deposit of N25,000 increase your chances of winning. At the end of it all, every month, we will have electronic draws where winners will be selected in every zone. At the end of the six-month promo, we will have a grand draw in which one winner would be selected for the grand prize of Prado Jeep.
Is anything unique about your offering, considering the fact that all banks offer savings and current accounts?
Banking largely is a generic business and whether you are in Lagos or Zamfara, savings account is savings account.
But what differentiates your bank is the service your clients enjoy. In this case, that is where our distinction comes in. Our dealings with customers are stress free. You can enter any branch of Skye and open an account as quick as possible.
Another thing that is important to people is accessibility. As a bank, you must be accessible to customers. For Skye, we are strategically located at places which are within reach for the people and our customers. We are in every major city, we are accessible to our customers and we maintain functional ATM.
Yes, agreed that the products are similar, but at Skye Bank, we place a premium on service. It is this service that you get and the wonderful experience that you have come in contact with that keeps people connected to us as a bank.
That is what we are selling and that is what we are driving. Those are the people we bring and connect with to stay put beyond the promo because of the experience that they will have.
Some Nigerian banks are exploring markets outside this shore, what is Skye Bank doing in this direction?
In most business, it is a function of capacity. If you have the capacity to go all the way, then you don't need to stop at this local level. Skye Bank has the financial capacity, stability and knowledge.
From our MD, that is the management team, we have people who have the knowledge to run successful international banking and so, we are concentrating right now on Africa.
We have our strong branches in Nigeria but we have also established in the Gambia, Sierra Leone and Guinea but working hard to move to other parts of Africa with time.
So, we believe we are up to the challenge of running a full-fledged international bank. There is no reason to ruminate over anything or go for anything less, that is why we have taken that option.
Based on this, is the promotion taking place in your branches outside Nigeria?
For now, it is running only in Nigeria but at later date, we might take it beyond our shores. All these products are running in our international subsidiaries as mentioned but the promo is only eligible to Nigerians operating in Nigeria.
What does the bank want to achieve with the promotion?
What we hope to achieve is to showcase our bank as a very strong retail bank with relevant products that meet the aspiration of individual customers.
We are strong in corporate and invest-ment banking and we have done a lot in the real estate. In the same way, we have achieved a lot in commercial banking, trading and enterprise.
But we want everyone to feel that Skye Bank really cares for every individual. Skye Bank retail business has various sections. We have account that deals with priority banking and personal banking.
We have a section that deals with small business, which is telling our customers that we are interested in everybody, regardless of class or location.
People want to save, invest and borrow, and Skye Bank will make sure that they have avenues for all the three options. We want to use this to showcase ourselves as a very strong retail bank
What are the measures put in place to reach out to customers?
We have started that with the flag off and we have continued with advert and handbills to create awareness. But remember, saving is a wide spectrum, the grassroots requires more than just advert in the press.
We have the low market people, the civil servants, the professional middle class, and upper middle class in those places you mentioned.