UGANDA'S FIRST WAR CRIMES TRIAL OF LRA COMMANDER OPENS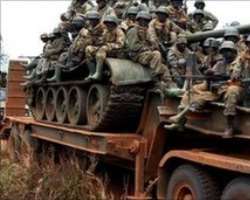 The Ugandan military has been trying to crush a rebellion in the north for more than 20 years
The first war crimes trial of a commander of Uganda's Lord's Resistance Army (LRA) rebels has started in the northern town of Gulu.
Thomas Kwoyelo appeared before Uganda's International Crimes Division court, more than two years after his capture.
He denied 53 counts of murder, hostage-taking, destruction of property and causing injury.
The LRA is notorious for kidnapping children and forcing the boys to become fighters and using girls as sex slaves.
It is listed by the US as a terrorist organisation and now operates mainly in neighbouring countries such as Democratic Republic of Congo, South Sudan and Central Africa Republic.
Mr Kwoyelo was captured during a Ugandan military raid in DR Congo in 2009.
He is accused of leading a 1996 attack on a Congolese village, in which people were forced to carry the goods stolen by the rebels.
"Those who failed were summarily executed," said the charge sheet, reports the AFP news agency.
"The rebels brutally tortured the women. The accused then ordered his forces to kill all the elderly captives."
Mr Kwoyelo has applied for amnesty, but the government rejected his request – a move the defence lawyer said was unfair because it had been granted to more senior LRA commanders.
International arrest warrants
The court was set up following peace talks several years ago between the government and the LRA.
The government assured the LRA that its fighters would be granted amnesty or they would be tried by Ugandan courts, rather than the International Criminal Court (ICC).
ICC arrest warrants exist for LRA leader Joseph Kony and his close aides. They are accused of rape, murder, mutilation and forcibly recruiting child soldiers.
The talks collapsed after Mr Kony demanded the withdrawal of the arrest warrants and a guarantee that he would not be tried by the ICC.
At least 30,000 people have been killed in the 24-year conflict between the LRA and the Ugandan government.
The LRA claims that it is fighting for a biblical state and the rights of the northern Acholi people.