House Restates Commitment To Accountability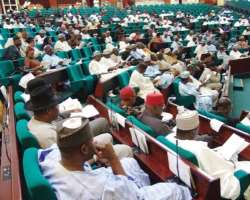 ABUJA, July 09, (THEWILL) - The leadership of the House of Representatives has expressed its commitment to consider and adopt proposals for increased transparency and accountability in the affairs of the House presented to it by the Socio-Economic Rights and Accountability Project (SERAP).
Deputy Speaker of the House, Hon. Emeka Ihedioha gave the assurance at a meeting with SERAP delegation led by its Executive Director, Adetokunbo Mumuni in his office.
Ihedioha said, "We fully share the vision by SERAP for transparency and accountability in the House, and we will doeverything to achieve this, and to deliver to Nigerians good governance and efficient public services.
"This is an independent House that will act according to the rule of law. We will look into the principles and adopt once the memorandum is submitted and tabled before the House."
In his remarks, SERAP's executive director, Mumuni said that given recent events, "it has become necessary for the House to consider and adopt" what he called "Seven Guiding Principles of Public Life" for members of the House of Representatives.
Mumuni thanked the Deputy Speaker and the members of the House and Mr Fabian Okoye, Special Adviser to the Speaker on Civil Society and Development Agencies, who attended the meeting for their engagement, and desire to embrace the principles.
He advised the House to establish a committee to monitor the implementation and compliance with the principles. He said the proposed committee should be transparent in its work, and collaborate with the civil society and other stakeholders.
According to Mumuni "The recent election of the Speaker provides an excellent opportunity for the House to show to Nigerians home and abroad that the new leadership is genuinely committed to the principles of transparency and accountability. It should not be difficult for the House leadership to carry its members along given the fact its emergence was the desire of the majority of members.
"The House should demonstrate to Nigerians its willingness to engage the public and exercise its authority to make laws for the good and welfare of Nigerians. This would improve public confidence and trust in the probity of the leadership and Honourable members of the House of Representatives."
The seven guiding principles prepared by SERAP are: selflessness; integrity; objectivity; accountability; openness; honesty, and leadership.
The principles state: "Members of the House of Representatives shall take decisions solely in terms of the public interest. They shall not do so in order to gain financial or other material benefits for themselves, their family, or their friends.
Members shall not place themselves under any financial or other obligation to outside individuals or organisations that might influence them in the performance of their official duties. In carrying out public business, including making public appointments, awarding contracts, or recommending individuals for rewards and benefits, members shall make choices on merit."
Other principles are that "Members are accountable for their decisions and actions to the public and must submit themselves to whatever scrutiny is appropriate to their office. Members shall be as open as possible about all the decisions and actions that they take. They shall give reasons for their decisions and restrict information only when the wider public interest clearly demands. Members have a duty to declare any private interests relating to their public duties and to take steps to resolve any conflicts arising in a way that protects the public interest. Members shall promote and support these principles by leadership and example."