NFF RAISES ALARM OVER FIFA BAN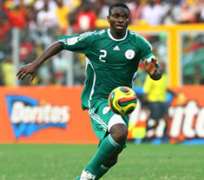 Embattled Nigeria Football Federation (NFF), has warned that the country is facing a stiff sanction from the world football governing body, FIFA, should the Director General of the National Sports Commission (NSC), Dr. Patrick Ekeji, fail to retrace his footstep over the identity crisis rocking Nigerian football.
The Federation's Chairman of Chairmen, Chief Johnson Effiong, who spoke to Daily Sunsports at the Glass House Abuja on Tuesday, lamented that the NSC boss, who is supposed to toe the part of peace and reconciliation, has deployed every machinery to terminate the tenure of the current board, warning that FIFA ban is looming if he did not change.
Effiong, who also warned that the NSC should be held responsible if the Super Eagles fail to pick the 2012 African Nations Cup ticket, lamented that the crisis orchestrated by the Commission is becoming a serious distraction to them.
'I just hope this crisis did not degenerate more than this because we risk FIFA ban. Ekeji is causing a lot of confusion since the beginning of this crisis. He should rather play a fatherly role in mediating on the case, but he was rather toeing the part that might compel FIFA to ban Nigeria,' he quipped.
Asked the decision of the board over the DG's resolution to head to FIFA without the federation, the Chairman of Chairmen argued that nothing will come out of the visit, stressing: 'If he thinks he can sort it with FIFA why did he write us in the first instance. We will wait and see the outcome of his visit. We, however, want Nigerians to know that should the Super Eagles fail to pick the Nations Cup ticket, it was the distractions from the Commission.'