Ministerial Screening: Taraba Senators Block State Ministerial Nominee, Ando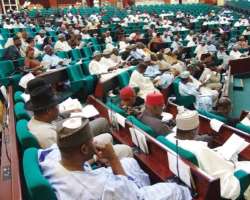 ABUJA, July 04, (THEWILL) - The return of erstwhile Minister of Water Resources, Dr. Obadiah Ando has run into a brick wall as all three Senators from his home state Taraba announced his rejection today, this is even as the Senate resumes the screening of ministerial nominees on Tuesday.
Senators Aisha Jummai Alhassan (PDP, Taraba North), Emmanuel Bwacha (PDP, Taraba South) and Abubakar Tutare (PDP, Taraba Central), told a press conference in Abuja that their action, which the trio said is now irreversible is in line with the position of their constituents.
With their resolute stand, Dr. Ando's hope of clearance is as dead as a door nail, unless there is a concerted effort by stakeholders both from the state and the federal government to change the three senators' position.
Going by the Senate's rule, for a ministerial nominee to scale the screening hurdle, his nomination must be supported by at least two of the senators representing the state where he comes from.
Alhassan, who spoke on behalf of his two other colleagues, said the people's objection of Ando's nomination was based on his non-performance when he was Minister of Water Resources in the last administration as well as his inaccessibility to the people of Taraba State.
Ando was to have been screened by the Senate last Tuesday according to the order in which the nominees' names appeared on the Order Paper but he was skipped when it got to his turn.
Alhassan denied insinuations making the rounds that the standing down of Ando's screening last Thursday was to give the nominee time to reach out to the senators for a possible change of mind.
She stated that Ando's appearance was stood down on Thursday by the Senate to allow for the screening of the two female nominees slated for that day before the Senate adjourned in the spirit of gender sensitivity.
Alhassan maintained that she and her colleagues were "all men and women of very high integrity who will never be influenced or induced with anything to divert the cause of justice or oppose the objective wishes of our constituents".
On whether their objection to Ando's nomination will not bring the Taraba senators in direct collision with their state governor Danfulani Suntai, Alhassan said, "There is no fight in this matter. It doesn't matter who nominated him. He (the nominee) is to represent the entire Taraba and not the person that supposedly nominated him."