I chose wicked roles in movies to expose the wicked— Ozokwor, a.k.a Mama G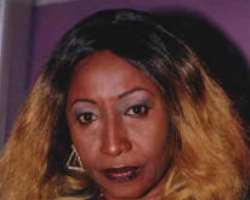 Long before she starred in the movie, Old School, a movie that gave her the alias Mama G and inflamed her prominence in the movie industry, Patience Ozokwor was already an established name in Nollywood. Nobody forgets easily any of her famous roles either as a wicked mother in-law or step mother.
And she is quick to tell you she accepts such roles to expose the wicked. But is Mama G only good at playing wicked roles? She gives the answer and a lot more. Enjoy;
You're all smiles this morning, what's up?
As you can see, I'm feeling great.
How do you feel being the first ever Face of Nollywood Award winner?
I feel honoured and happy. I give God all the praise because I would not have been able to achieve a thing like that on my own.
Knowing also that this award was given to me by my fans makes me very happy and loved.
When your name was mentioned that day, the whole crowd stood up to honour you, how exactly did you feel at that point?
At the very point my name was mentioned as the winner, I felt goose pimples all over me and I just went on my knees to praise God. When the voting was going on, I wasn't aware so I didn't even vote for myself and didn't tell my people to vote for me. In fact when my name was mentioned among the last three, I told myself that at worst I'll go home with the last prize. I'm very grateful to my fans out there knowing that they love me so much not minding who I am or where I come from.
In your opinion, what attributes can you say earned you this award?
I don't know, may be my fans will answer that question better. Sometimes people call me and say that I act so well and real, but I don't get carried away by those comments. It only makes me know that people are watching my movies which means that a lot more is expected of me.
Do you think this award should continue?
I think it's an honourable venture and I thank God for inspiring the organisers of this event. I think it's a way of telling us to put more effort into what we're doing and those of us who've not been doing so well, will also be challenged to wake up. This year I'm the winner, next year it could be someone else so I think it should continue.
From journalism to acting, how did you do it?
I was an announcer with Radio Nigeria, but I left because I was retrenched. Before then I had always acted in school and in the Church. And being an announcer on its own is acting because they both involve expression. The difference is just that you are not seen on radio.
How challenging was it when you took up acting as a career?
It wasn't an easy task because acting in a movie is different from any other form of acting. Acting in a movie is different from stage acting or even soap operas. Some people act very well on stage and soaps, but when they come over to movies, they'll have to start learning all over again. When I took up acting as a career, I improved from one movie to another until I got used to movie acting. I will say that acting in movies is the most challenging of all other forms of acting.
Most times you play wicked and bad roles in movies, how do you feel taking up such roles?
It's challenging playing the role of a bad person, for me it is much work.
I don't feel bad taking up such roles because I know that the character is not me and it is very tasking to play such roles for people to understand the message you are passing across.
So how do you feel when you watch yourself play all those wicked roles?
Honestly I feel terrible. There was a movie I did where I had to snatch a baby's food and throw it away. Each time I watch that movie I feel like crying because I love babies so much. There's another one where I had to put some poison in a baby's mouth and the baby died afterwards. Whether we like it or not, these are things people do so. I take up such roles not just for the money but for the sake of exposing evil doers. It's like creating awareness so that people can be conscious of their environment that's why I keep portraying such characters.
When people call you stage names, how do you feel?
I hail them. People know me with various names I bear in movies and when they call me any of those names, I remember the movie immediately. I feel very happy because it tells me that people are really watching my movies.
Which of your movies do you think brought you to limelight?
I think it was Authority. Before then I had two other prominent characters in Amina and Odum. It was the role I played in those movies that earned me a role in Authority and since then, I've not rested outside playing wicked roles
Can you also take up romantic roles?
I've played so many romantic roles too. I acted in Love After Love and many others which I cannot really remember their titles.
Of all your movies, which is your best?
I don't know how to assign importance to any of my movies but I pay equal attention to any script I get no matter how small it is. It's the smaller scripts that can even floor you if you're not careful. The movie Old School had a small script but by the time we finished, it came out wonderfully well. And it earned me the name Mama G. I've never disrespected any script, but all the same, there are some very challenging ones. I can't pick out anyone as the best but I love Old School.
As an actress, have you had any embarrassing moment?
So many times and these happened at special gatherings or at the airport. People just walk up to me and say you are a wicked woman, you are a witch and things like that. Somebody even walked up to me one day and said 'Now I know why your husband died, you killed him." Some people send me text calling me, witch after watching my movie and I laugh at such people.
How do your in-laws see your career?
They are so happy with me. They love what I do. I can remember one family gathering we had and one of my in-laws told me that he was so happy when he went to the internet and saw the family name Ozokwor (including my son the footballer). He encouraged the rest of our family members to go and check it out. They're very proud of me.
As a widow, what challenges did you face bringing your children?
My husband just died in 2002 so we brought up our children together. My last child was already in the University then which means I didn't train all alone.
Do you see any of your children coming into acting?
My second son loves acting a lot, he's shown a lot of interest in acting. He invested some money in a movie this year and he's interested in featuring in movies. My only daughter used to have interest in the industry too but she became born again and changed her mind. Right now she is working with Cadbury London so there's no time for her to act.
Your fans, what do you have to tell them?
I'm very grateful to them for making me come this far and I'll never disappoint you. By Gods grace I'll make you happy all the time. Keep watching my movie and keep listening to my music.
Also try to learn whatever lessons they are teaching like my music titled National Moi Moi which tells you that those in government should allow the people to have a taste of the national cake and those governed should work hard to earn a living for themselves and be good citizens of Nigeria.
Above all they should remember Jesus Christ in all they do because he came and died to redeem us. Don't forget that on they last day, you'll give him account of your stewardship