OUR DEAL WITH PRESIDENT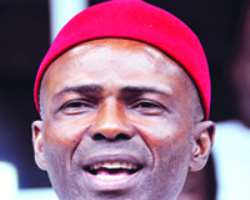 The National Chairman of the All Nigerian Peoples Party (ANPP), Dr Ogbonaya Onu stopped over in kano State to commiserate with party members on the violence that engulfed the state soon after conduct of the presidential polls. Several ANPP stalwarts were targets of the anger and their property worth millions of naira were destroyed. He took some questions from newsmen on why he was in the state, the reason they are fighting the PDP in the Tribunal, the issue of merger, their meeting with President Jonathan among others.
Excerpts…
What is the reason behind your visit to Kano State?
I came to Kano State to commiserate with our members over what happened in the state after our last elections. Our party, ANPP, does not believe in violence. We do not support violence and we believe that Nigeria should by now, have outgrown having violence during or after elections. Our elections ought to be peaceful and the time has come for all political parties in Nigeria to join us and ensure that we put an end to violence during elections. I have just visited Alhaji Bashir Tofa, whom I believe all of us in Nigeria know, a great Nigerian, a man who has done a lot for our country, a man who was the presidential candidate of the National Republic Convention (NRC) about 20 years ago, and a man who has never run for any elections in the present dispensation and yet, you need to see the level of damage and destruction done to his property. Such unwarranted destruction is most painful.
We also visited Alhaji Garo, a foundation member of our party, who has served dutifully as the chairman of our party and as a matter of fact, he is the chairman of all chairmen in the Local Government. And he lost a lot and we honestly feel worried that this is happening in our country. Having gone on this sympathy visits to share with our members, I also feel it is necessary that I talk to the members of the party in Kano State. We want to thank them for what they have been doing for the party and to urge them to continue to work hard for the party. This is because the ANPP is determined to win the elections at the federal level. We have produced the chairmen of local governments and we have produced governors of states. It is our intention that our party should produce the President of Nigeria and we are very determined in this regard and we know that Kano will play a very important role in the realization of this objective.
You were in the meeting with President Jonathan, yet ANPP rejected the proposal for Government of National Unity (GNU).
The meeting that the president had with leading or major opposition political parties not too long ago - that meeting was attended by the ANPP Action Congress of Nigeria (ACN), All Progressive Grand Alliance (APGA) and the Labour Party (LP). In that meeting, the president didn't tell us he wanted a Government of National Unity. Rather, he talked about cooperation. He talked about holding regular meetings. As a matter of fact, he suggested holding quarterly meetings with us. The other parties accepted, but the ANPP said that we must go back to consult with the members of our party and then get back to the President. With respect to the Government of National Unity, you will recall that slightly over four years ago, the ANPP was involved in a Government of National Unity, under the presidency of late President Umaru Yar'Adua. But this year, the party looked at a number of issues and decided to discontinue with the Government of National Unity. And we made this known to all Nigerians and in deed, to the whole world. We gave our reasons and in fact, before we took that decision, we consulted all the organs of the party, all levels of decision making in the party,  from the working committee to the NEC , which is really the highest organ in the absence of a convention.
I think that in a democracy as ours, opposition is very important if you want efficiency. If you don't have an effective opposition, then those in government can do what ever they like. They may decide not to put the interest of the Nigerian people first, knowing that at the end of the day, there would be no opposition. Nobody to remove them and they would continue in office. So that is why, for the good of our nation, a very strong opposition is needed so that whosoever is in government would know that if he does not do well, during the next election, he will leave the seat and somebody else will come in. So, the position of the ANPP in respect of the GNP is well known.
ANPP, was until recently, the main opposition party. But somewhere, you have lost your grip on so many of your strong holds. What are you doing to make you regain strength?
I must thank you for this question. But there is just one correction I want to make. The ANPP was not formed to be an opposition political party.  We were formed to form government at all levels. We had our programmes. There are many things that are dear to us as a political party and until we are given the platform to serve, Nigerians will not know our capacity to serve them well. But now that we are in opposition, we will do our best.  I agree with you that we have been suffering loses since 1999. But if you check our history and our records, you will find out that it is only in this last election, that the ANPP came from the elections with the same number of states that it entered the elections. In previous elections, we normally come out with fewer states than we had entered the elections with.
What is your frank assessment of the PDP-led government in the last 12 years?
For 12 years, our nation chose PDP as a party to govern us and honestly, we have seen what has happened to the nation. We have seen that the unemployment figures have been rising at disturbing pace. We have seen that we have not been able to solve the problems of power supply. Now, it has become even more irregular than it was 12 years ago. We have seen that the level of poverty is even rising. We have seen that the level of insecurity is even getting worse. We never knew that bomb blasts could happen almost every week. When it happened before, it was once or twice in many years. Now, it is of regular occurrence. This is coming after we have suffered the spate of kidnappings that even made it impossible for several cities in the country to function. If you go to Abia State, Aba, for a long time, was paralyzed. No activity until the army descended on them and brought order to the town.
Look at the infrastructure. If you travel round the country, there is no part of the country that you will see good roads, all over the country. These problems have remained unsolved for over 12 years and we are saying to Nigerians, for how long will you continue to hand over the mandate to one political party? Why not try another? And we know that if you have two things, there is no way you know which one is better until you have tried both. So, we are very anxious to move away from being an opposition political party to being a party in government, a party that can satisfy the yearning of Nigerians and bring happiness to our people.
The main opposition parties appear to be working in different directions. Why are they not forging together for the good of Nigerians?
I like this question but let me also mention that every party, every political party should have a personality of its own. Ideally, there should be something unique in a political party. Otherwise, there is no need forming it. But having said that, the opposition political parties in Nigeria are trying to forge a political relationship because we know that when we come together, we will be stronger and it will be easier. It does mean that if we rebuild fast, that ANPP alone cannot win power at the center, which is our goal. But we know that if the opposition parties come together, it will be much, much easier. Before even the last general elections, we had started discussions, but time would not permit us.
But now that we have much time to ourselves, we will explore more avenues. But this will depend on the position of the members of the party. As a National Chairman, I can only do what my party likes, it is only when my party gives me that mandate that I can move ahead in this direction. Let me also educate the Press on something that is important. Very often, people say that there is no difference between one political party and another in Nigeria. I don't think that that is true.
We, in the ANPP, we believe that we are different and we want to show Nigerians that there is something unique about us. We are working on our manifesto so that our vision would be presented in very clear terms and our philosophy will also be presented. Then, our goals and the strategies we will use to get to those goals will also be presented. So that looking at our manifesto, you will clearly see that there is something that is unique about our party, that we have a distinct personality. I think that that is better. It will be easier for any body to say 'Yes', since ANPP believes in this and I believe in that, then I will like to be in ANPP. This is currently what we are doing and when we finish, we will present it to all Nigerians.
The ANPP is challenging the results of the gubernatorial polls. And you are also doing the same thing at the federal level. Why are you in the court in Kano?
At the federal level, the ANPP is not involved in any legal battle over the result of the poll. Our presidential candidate in the last election, Mallam Ibrahim Shekarau, has already congratulated the President. We are not in court as a party challenging the election of the president. But at the state level, we are in court. We are also in court in some other states where we felt that there were a lot of irregularities. Like in Kano, we believe that if you look at the lawful votes cast, we believe that our candidate ought to have been declared the winner of that election and the governor of the state. So, for the sake of justice and if you remember that the motto of our party is' Justice, we want to pursue it so that he is declared as the winner of polls.
Also, there are allegations of irregularities and right now, there are techniques to prove whether those allegations actually happened or not. And, we will like to prove in court that the allegations are true. So that in future, such things will not happen again. Because if somebody does what is wrong and he is not corrected or challenged, next time, it will be repeated. He will do it again. And we want our country to be greater than it is today. So for many reasons, we are challenging the outcome of the results in Kano as it is now, and we are very hopeful that by the grace of God, we will be victorious.
Specifically, what is your position on the issue of merger with other political parties in the opposition?
I think I have said so before. We have been in discussion with other opposition political parties.  Maybe l should go back a little bit. I was sworn in on October 21 and that was very close to the primaries. And if you want to merge with the other political parties, there are certain time lines that you must meet, time lines that you need to give to the Independent National Electoral Commission (INEC) in a notice and honestly, we did not have that time. So, right now, we are in a position to discuss with other political parties, agree with them. It can be in the form of a merger or it can be an alliance or it can be other things. It can be a coalition.  But the important thing is that we are interested in forming government at the center and the ANPP will work very hard to ensure that we do so.