WHY WE WANT INTANGIBLE CULTURAL HERITAGE PRESERVED -UNESCO BOSS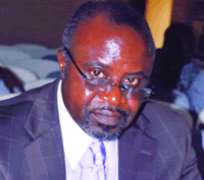 •Dr. Ngu
For three days in Enugu, Enugu State capital, the National Institute for Cultural Orientation (NICO) recently teamed up with the United Nations Educational, Scientific and Cultural Organisation(UNESCO)to organise a workshop on Intangible Cultural Heritage (ICH).The workshop, which was attended by over 40 experts drawn from the six geo-political zones of the country, deliberated extensively on how to safeguard the numerous ICHs in Nigeria.
In attendance as one of the key organisers was Dr. Joseph Ngu, Director and Country Representative of UNESCO in Nigeria, who joined his counterpart, Dr. Barclays Ayakoroma, Executive Secretary of NICO, to make the event realise its aims as a workshop for trainers. The two executives equally supported the resource persons, Silverse Anami from Kenya and Denja Abdullahi from Nigeria and stressed the need for Nigerians to reach out to communities and identify ICHs for the purpose of preservation.
Shortly after the workshop, Daily Sun cornered Ngu, the Camerounian diplomat, who explained the mission of organisation through the workshop:
Specific roles of UNESCO in Nigeria
What we do in UNESCO is to plan and coordinate inter sectional programmes of the office. We have various mandates in education, science, culture, information and communication. So, what I normally do is to formulate strategies and plans as our own contribution towards UNESCO's overall work in the country. And we are more proactive and responsive in that sense. We are in a way future oriented in developing policies and programmes so as to articulate and advance UNESCOís work in Nigeria.
My personal experiences as country director
I have been here for almost two years now and I have found out that we need to provide intellectual leadership for such a multi-disciplinary staff of the office and for the country while managing our regular programmes to achieve the overall results expected by UNESCO. My experience is that Nigeria has a rich intellectual background and human resources, hence the office has quite a number of local staff to complement the work of the organization. We also manage the financial and human resources of the office all of which have been very productive.
Between the Nigerian Delegation in Paris and UNESCO in Nigeria
Actually, we work in collaboration with the Federal Government through the National Commission for UNESCO. We work hand in hand because most of the work which the Nigerian government ought to do goes through the Nigerian Delegation. In fact, we are privileged here because the National Commission for UNESCO facilitates our work through the Delegation.
Failure of African countries to benefit from UNESCO
This is just a misconception. We have a computerized system of information analysis which is open to the public right from Paris. As for Nigeria, the country has every right to access its benefits from UNESCO. As a matter of fact, the Nigerian government has been very cooperative because some projects have been initiated by the Nigerian government itself which are implemented by UNESCO. For example, the Millennium Development Goal, which aims at promoting Universal Primary Education as well as gender access to formal and informal education, was initiated by the FG.
We just had a contract of $6.5 million by the Nigerian government. This is because the FG believes that UNESCO, through its rules and resolutions, can implement the scheme much better than the multiple parastatals in the local education sector. And in order to attain the 2015 goals on education, the illiteracy rate is so high that UNESCO's assistance became inevitable in this regard. The resources essentially would be used to benefit Nigerians based on the rules and regulations of UNESCO.
In the past, a lot of resources has been dispensed through the parastatals and agencies in education sector but no concrete results have been achieved. The rate of illiteracy is still very high such that about 40 million people in Nigeria can still not read and write. In other sectors like information communication science and culture, a lot of projects has been initiated by government, which have not yielded results. But in UNESCO, we always encourage building of partnerships. We normally make use of catalytic resources to form partnerships. We usually identify key internal and external stakeholders and work collaboratively with them to attain the goals for which we have been set. So, we build internal and external networks as well as build alliances that support achievement of the organisation's goals.
How Nigeria can attain 2015 millennium goals with UNESCO
We use our resources to help Nigeria become proactive in attaining the Millennium Development Goals. UNESCO essentially provides policy advisory to government, and when government takes the advice, we then team up with the same government to procure resources to implement the policies.
ICH workshop in Enugu as follow-up to the 2003 UNESCO convention
We decided to join NICO to enable us take the message of safeguarding ICH forward. It is very important for UNESCO to ensure that the convention is implemented throughout the country. The workshop came about following realization that African countries in general (and Nigeria in particular) have very few of their many ICHs enlisted on the representative list of UNESCO.
So, what we did was to train the trainers. The trainers were all drawn from the six geo-political regions of the country and it is hoped that all of them would go to their communities and assist in making people (communities) aware of the value of their intangible cultural heritage so that they do not disappear. We strongly believe that intangible cultural heritage is the mainspring of cultural diversity and, therefore, there should be more of these elements which must be safeguarded in Nigeria and to enable the country be listed on UNESCO representative list.
Expectations from the workshop
I expect participants from the workshop to be more proactive. That is why we targeted people from diverse sectors -culture, education, media and other stakeholders. We just expect them to spread the news that UNESCO is focusing its efforts on creating awareness on the importance of ICH.
Background
I am an economist. I bagged Bachelor, Masters and Doctorate degrees in economics of education. I have worked with United Nations for 17 years. I first worked as an economic finance officer for UNECA (Economic Commission for Africa) for almost 10 years before joining UNESCO, which I have served for almost seven years now. I earlier worked as director of International Institute for Capacity Building in Africa (in Addis Ababba). Then we targeted teacher training institutions with the hope of building up their capacities so that they could assist in training teachers.