OPTIMUM EXPOSURES UNVEILS AFRICA'S BIGGEST BILLBOARD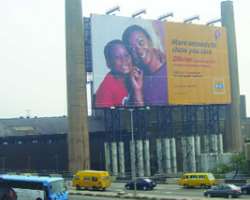 Leading outdoor advertising company, Optimum Exposures, in line with its reputation as a trailblazer in the Nigerian out-of-home advertising industry, has unveiled what is unarguably the biggest billboard in Africa.
The imposing billboard, located at the Costain area in Ijora, Lagos, stands at 50 metres from natural ground level, same height as a 17-storey building. The display area facing traffic from Lagos Island is also 50 metres in width and 25 metres in depth, while the display area facing traffic from Costain is 50 metres in width and 16 metres in depth.
The super structure is also highly fortified with about 700 tonnage of steel, with a solid foundation made of 545 cubic metre pile cap on 245 number steel cased piles installed at specified 18 metre to 30 metre depth.
Speaking on the development, the Managing Director of Optimum Exposures, Mr. Lere Alimi, expressed pride in achieving such a feat, describing it as a landmark achievement.
He added that though it was quite a challenging task, the erection of the billboard is a further testimony to the expertise that the firm possesses.
'The challenges have been enormous. At the onset, we were asked if it was doable. Of course, our response was a capital YES because we knew that if the mind could conceive it, it was achievable. As the project continued and the challenges arose, there were calls for us to abort it but we were resolute. It is, indeed, a happy ending and a joyous accomplishment,' he said.
Alimi commended the team responsible for the glowing feat, including the staff of the company, the consultants and contractors, as well as MTN Nigeria Communications for investing in the landmark project.
According to him, despite this enviable achievement and the fact that the firm was named the Most Innovative Out-of-Home Company Award (Poster) in 2010 by the Outdoor Advertising Association of Nigeria (OAAN), the company was not resting on its laurels. He said Optimum Exposures was already planning ahead to improve on the record.
'In line with our tradition, we are already looking beyond this innovative display to something even better,' he said.
The consultants and contractors for the project included Morgan Omonitan and Abe (structural design), Eldorado Nig. Ltd. (steel fabrication), Foundation Construction (pile load and integrity tests) and Groundmast Ltd. and Niyod Construction Ltd. (foundation works).