A FIRST PEEP INTO GOODLUCK JONATHAN'S YEAR 1 IN THE SECOND TERM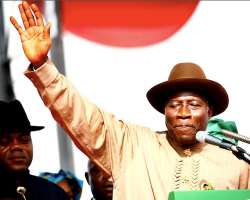 PRESIDENT GOODLUCK EBELE JONATHAN.
Mr. Jonathan is yet to announce his cabinet and the other senior members of his administration even after he told us that he would hit the ground running during the election. He is acting as if he were surprised he won and was not prepared. He is yet to make any earth shaking pronouncement on the direction of his government unless he is implying that things would remain as they have been. Mr. Jonathan's timid approach to governing may be making some of us nervous and wondering if the cabinet would be dictating to him where to go, how to get there and when to start. If any of these things is true, Nigeria is in for a long four years.
In spite of the above declarations, it is still possible to predict the direction of Jonathan's year 1, by looking at the budget he presented to the Legislature and which has been approved. The budget is an election year budget, and as such budget goes, it contains the core beliefs of the government even if some carrots are put in to attract some key potential votes.
The approve budget would be seriously amended for details but the core beliefs will remain.
A budget is a financial document used to project future income and expenses. Accordingly it shows how much a government believes it would earn and how it would spend such earnings. It is a projection and therefore subject to the vagaries of the economy and world events. But before we get to the analysis of the budget as a way to predict Jonathan's 2011/2012 direction let us present the synopsis of the budget;
Total expected revenue (excluding strategic account) N4.9 trillion or $33 billion.
Total Expected Uses of the funds for recurrent and capital expenditures N4.9 trillion or $33 billion
broken down as follows in dollars (exchange rate of $1=N150):
All $ in billions
Defense $2.54 0.77%
Education $2.45 0.75
Police $2.40 0.72
Works $1.84 0.55
Health $1.78 0.54
Presidency $1.30 0.30
Power $0.70 0.20
Natn'l Security $0.69 0.18
Delta $0.59 0.18
Sc. & Tech $0.56 0.17
These are the top 10 expenditures in the budget. One can analyze this further by combining the activities of defense, police National Security, and Interior as belonging to security umbrella to get to $7.0 billion or 21% of the budget. Combining Education and Science and Technology we get $3.0 billion or 9% of the budget. This is how the presidency sees the future in year 1. Security is the most over-riding issue and education comes far behind as second, and power comes in many hours late at third at $0.7 billion or 2%.
If I were to redo the budget, I would cut the security services budget by at least half especially given the success we have hard from them in the past. We have not caught the robbers stealing from us and jailed them; we have not tracked down any of the rioters even after we have a combined army and police to provide protection; we have no success with bunkerers; kidnappers and Boko Haram are still roving our streets with impunity, etc. Our only relative success has been in interfering in Congo, Liberia, Sierra Leone, etc on behalf of AU and UN.
But as for our internal security, there has not been anything to write home about.
If we were to spend our resources in putting in place a capable police force which would be able to track down criminals of every shape and maintain enough war ships to arrest pirates stealing our oil by ship loads and one or two jets to protect us from air pirates, Nigeria would receive better dividends. We do not need the army (may be just 5% of current enlistments) air force (just two wings) and all of the current navy our national security might improve with roughly half of the planned security budget or a savings of about $4 billion a year.
The savings could then be ploughed into the second and third areas of education, and power.
Something to think about.
Please note that there are a lot of possible slips between the hand and the mouth. The budget is as good as the implementers. If the ministers chosen to implement the budget have other ideas, the real outcome would be those other ideas. They may decide to pocket a good chunk of the ministerial allocations which would mean that the actual budget amount would be half of the budgeted amount creating a huge budget variance.
This has been a purely financial analysis. Political analysis is likely to produce a different expectation. I expect others to look into that also.
My one remaining question is the wisdom of the Ministry of Delta Affairs. If the amount of $0.59 billion or 1.8% is spent in Delta Region, plus the different state allocations plus their share of roads, water, etc, expenses, would we not be creating a situation where accountability would be impaired because the huge flood of resources into the area would make looting difficult to determine? Should they be excluded from water, roads etc expenditures?
Your answer is as good as mine.
Written by Benjamin Obiajulu Aduba, Boston, Massachusetts.
Disclaimer:

"The views/contents expressed in this article are the sole responsibility of the author(s) and do not necessarily reflect those of The Nigerian Voice. The Nigerian Voice will not be responsible or liable for any inaccurate or incorrect statements contained in this article."
Articles by thewillnigeria.com