W'CUP: 'ABADE' BLAMES EUCHARIA FOR FALCONS DEFEAT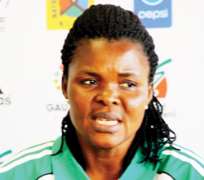 Eucharia Uche
Former Super Falcons defender James Johnson says coach Eucharia Uche's substitutions cost the senior women's national team dearly in Sunday's 1-0 defeat to France in the opening match of the 2011 Women's World Cup in Germany. The Falcons have not won a match at the World Cup since 1999.
Johnson, now a man, was on the verge of attending the 1999 World Cup when it was discovered that he was a hermaphrodite and was dropped from the squad. She was then known as Iyabo Abade.
'It's sad we lost and we have to take it in good fate but there were a lot of lapses. The coach made a mistake by removing striker Desire Oparanozie because she was the only player causing problems for the French,' Johnson told our correspondent on the telephone on Sunday.
'The substitutes didn't add anything to the team. Only Esther Sunday showed some bite and if Eucharia can start her in the next game, fine.'
He also faulted the exclusion of forwards Cynthia Uwak and Ifeanyi Chiejine from the squad.
He said, 'I feel bad that Uwak and Chiejine were dropped. If they were in the team, they would bring tactical balance to the team. Perpetua (Nkwocha), our top striker was not in the game because there was no player to do the dirty job for her.
'Only Perpetua can't do it alone. Even if (Lionel) Messi had played for the Falcons that day, they would have lost because there won't be anybody to assist him in the attack.'