US Preparing To Invade Libya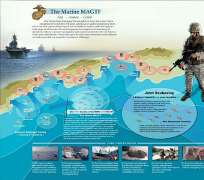 Huge Marine Drill Confirms Ground Invasion of Libya, from Kurt Nimmo at InfoWars. Exercise Mailed Fist, covering much of theeast coast of the United States, has been underway this week to test equipment and readiness for a ground invasion planned for some time in October.
"On Sunday, CNN reported on a huge Marine war exercise dubbed Exercise Mailed Fist.
"The exercise is designed to test the capability of every type of Marine Corps aircraft, including MV-22 Ospreys and F/A 18 Hornets, as well as some Navy ships and Air Force planes," CNN reported.
The exercise will encompass a large area on the U.S. East Coast from Quantico Marine Base in northern Virginia to the Navy's Pinecastle Bombing Range in Florida. Most of the exercise activity will occur above North and South Carolina.
The drill begins today and ends on Friday.
Thousands of Marines will take part. According to CNN, it will be biggest drill of its kind ever held on the East Coast.
"Exercise Mailed Fist is the first exercise of its specific kind and the largest 2nd Marine Aircraft Wing exercise conducted in recent history," Staff Sgt. Roman J. Yurek, Marine Corps spokesman, told CNN. "In the past, 2nd Marine Aircraft Wing units had to deploy to the West Coast to conduct this type of training."'
Marines with Battery K fire 120mm mortars here June 21. The battery provides artillery and indirect fire for Battalion Landing Team 3/1, the ground-combat element of the 11th Marine Expeditionary Unit. The unit is training with the Expeditionary Fire Support System for an upcoming deployment later this year. 6/21/2011 9:19:00 PM Photo: Cpl. Gene Allen Ainsworth III

"It appears the Pentagon has released information about the exercise exclusively to CNN. A Google News Search produces scant results on Exercise Mailed Fist.

CNN is a notorious focal point for Pentagon psyops. In 2000, the Pentagon confirmed that psyops personnel, soldiers and officers, have worked in the CNN headquarters in Atlanta. In February of that year, Dutch journalist, Abe de Vries, reported on the presence of U.S. Army personnel at CNN for the Dutch daily newspaper Trouw.

Obama will visit Fort Drum in New York on Thursday. It is speculated he will announce a decision on drawing down U.S. forces in Afghanistan, but the visit may also be related to a plan to send ground troops into Libya.

The huge military exercise comes at a critical time. As we reported last week, the United States is in the preparatory stages of a ground invasion of Libya and a campaign against Syria.

…Other calls to the Alex Jones Show from military personnel confirmed the reports."

Syria and Iran are also subject to speculation as possible targets. The Marines run exercises all the time, but this is a particularly large scale exercise.

The earlier report by Aaron Dykes at InfoWars on June 15:

"Infowars.com has received alarming reports from within the ranks of military stationed at Ft. Hood, Texas confirming plans to initiate a full-scale U.S.-led ground invasion in Libya and deploy troops by October.

The source stated that additional Special Forces are headed to Libya in July, with the 1st Calvary Division (heavy armor) and III Corps deploying in late October and early November. Initial numbers are estimated at 12,000 active forces and another 15,000 in support, totaling nearly 30,000 troops.

This information was confirmed by numerous calls and e-mails from other military personnel, some indicating large troop deployment as early as September. Among these supporting sources is a British S.A.S. officer confirming that U.S. Army Rangers are already in Libya. The chatter differs in the details, but the overall convergence is clear that a full-on war is emerging this fall as Gaddafi continues to evade attempts to remove him from power

A caller identified as "Specialist H" working for mortuary affairs under USCENTCOM revealed that there have already been American casualties inside Libya. He confirmed that at least 2 soldiers and 3 civilians have died from combat bullet wounds, something the media has yet to report, and needs to investigate and address.

Geo-political expert Dr. Webster Tarpley also told the Alex Jones Show today that wider war is being planned for Libya, while the count of simultaneous U.S. wars has reached five conflicts– including Iraq, Afghanistan, Pakistan, Libya and Yemen. The potential for an even greater spread of regional conflict could well provoke a World War III scenario, drawing in tenuous nations like Syria, Lebanon, Iran or even Saudi Arabia, according to Tarpley.

For his part, President Obama has brushed off demands to answer to Congress for continuing military action beyond the 60 day limit set under the war powers act. The engagement he first claimed would be over in mere days, Obama then dubbed a "kinetic action" rather than a war. Further, Obama has justified his commitment of American forces under a United Nations mandate, unconcerned by his own admission with the will of Congress. Now, with significant overlap in reports, we can confirm an apparent decision by Obama to support wider war and a longer-term involvement in Libya."

If this information is correct, I guess we can hang up any hopes that United States policy will make sense or present a positive face to Africa or anywhere else in the world.

President Obama Ignored Advice of Top Legal Advisors, OLC in Waging War in Libya. From the New York Times:

"President Obama rejected the views of top lawyers at the Pentagon and the Justice Department when he decided that he had the legal authority to continue American military participation in the air war in Libya without Congressional authorization, according to officials familiar with internal administration deliberations.

Jeh C. Johnson, the Pentagon general counsel, and Caroline D. Krass, the acting head of the Justice Department's Office of Legal Counsel, had told the White House that they believed that the United States military's activities in the NATO-led air war amounted to "hostilities." Under the War Powers Resolution, that would have required Mr. Obama to terminate or scale back the mission after May 20.

But Mr. Obama decided instead to adopt the legal analysis of several other senior members of his legal team — including the White House counsel, Robert Bauer, and the State Department legal adviser, Harold H. Koh — who argued that the United States military's activities fell short of "hostilities." Under that view, Mr. Obama needed no permission from Congress to continue the mission unchanged."

If US personel are already dying from gunfire in Libya, there are hostilities. In addition to the President seizing "blatently unconstitutional powers" I also understand the military personel in Libya are receiving combat pay, another indicator of genuine hostilities.

________________
Here are some descriptions of Exercise Mailed Fist from Havelock News in North Carolina:

June 22, 2011
Elements from the 2nd Marine Aircraft Wing at Cherry Point are being joined in the 11-day exercise by Marines from New River, Beaufort, S.C. and other Marine, Navy and Air Force units from Florida to Virginia. The exercise, the largest for area Marines in a decade, ends Friday.

Essentially, MWSS-274 mobilized as though it was deploying to a faraway place to create an operational air base capable of supporting up to 600 personnel. Marine Attack Squadron 542 brought a fleet of AV-8B Harriers and associated support personnel to Bogue Field.

The first thing the Marines got operating on the first day was their water purification system, which puts out 21,000 gallons a day drawn right from Bogue Sound.

"The water is actually eight times more pure than the water that comes out of your tap at your house," said Cpl. Matthew L. Cheney, a water purification support technician.

He said each purifier uses micro-filtration and reverse osmosis to remove impurities, including nuclear or biological warfare agents that might be in the water during a battlefield situation.

"We draw water directly out of Bogue Sound and in 10 minutes we've got completely purified water that's ready to go," Conway said. "You can drink it right out of the machine."

Over the weekend, Marine families were invited to the camp, and all were able to get a taste.

"Everybody was able to come by and drink it, and 10 minutes before it had been home to a fish," Conway said.

Clean water is the foundation of the operation, Conway said.

"If you lose that capability, you've basically shut everything down," he said.

Next in line would be nourishment, and the field mess is able to prepare three hot meals a day.

…
Heavy equipment was brought in to build temporary runways and helicopter landing pads.

"It allows us to break the equipment out, and instead of inspecting it every day and just maintaining it, they actually get to use it, and it increases both our proficiency with the equipment and their proficiency of actually operating the equipment," Conway said. "That's the greatest way to keep it operating is to actually use it."

MWSS-274 firefighters and their trucks and equipment came along too, and crews are always ready with reflective gear capable of pulling a pilot from a downed plane burning at 1,200 degrees.

"Our job is not to put out the fire but to make rescues," said Gunnery Sgt. Raymond Secoy, leader of the aircraft firefighting crew.

All 2nd MAW aircraft, from jets to KC-130J refuelers to helicopters, are involved in the exercise.

VMA-542 pilot Capt. B.R. Stevens said Harriers are outfitted with small practice bombs and practice missiles that converse electronically with the pilot as though they were the real thing.

"It allows the pilot the same flight characteristics as a 500-pound bomb," he said. "You are able to get the same training as regular ordnance, except you are not carrying the weight or drag of 1,500 pounds of dumb bombs," Stevens said.

Sgt. Wesley Peck, an avionics technician with VMA-542, keeps the Harriers flying "so they can drop bombs on the bad guys."

He said Mailed Fist was good for his 50-man support crew.

"This exercise gets us in the mindset," Peck said.
Lance Cpl. Steve Squires is a powerline mechanic.
"We get into the right mentality and get to see how everything is going to get set off and how everything is going to go down," he said.

Conway said the training less than 40 miles from Cherry Point offers the same benefits as training at more remote locations.

"It allows us to have the flexibility to make some honest mistakes and to learn the lessons on the cheap and you apply them so you don't keep making those mistakes again and then you can apply those lessons learned when you are going a little further away when you don't have those instant reach-back capabilities to Cherry Point," he said.

"You set it up, you take it down, you learn the lessons and you apply them. You just get that much more efficient at your job. So that when we get the notice — whether it's a notified deployment where we have several months to work up to it or it's a limited-to-know deployment where it's pack your stuff, get out, get over there — we can be operational."

And saving money while training is a key part, he said.

"When we just went through the budgetary continuing resolutions, we weren't sure where the funding was coming from," Conway said. "At one point in time I was down to less than $100 in my operating budget while we were waiting for the next round of money to hit."

June 17, 2011
Air and ground assets from Virginia to Florida are part of a massive readiness exercise led by the 2nd Marine Aircraft Wing at Cherry Point.

Exercise Mailed Fist 1-11 is continuing through June 24, and residents in the area should expect an increase in military aircraft and ground activity in the region, according to a release from Cherry Point.

The exercise is one of the largest for the 2nd MAW in recent history. It is designed to ensure that personnel remain prepared to serve as part of a rapid-deployment aviation force in readiness, according to the release.

The exercise involves Marine units from Cherry Point, New River and Beaufort, S.C., along with other Marine, Navy and Air Force units from the East Coast, according to the release. Bases involved include Cherry Point, New River, Bogue Field, Atlantic Field and Camp Davis, as well as others in the region such as Beaufort, S.C., Vadalia Regional Airport in Georgia, Fort A.P. Hill, Va., Fort Pickett, Va., MCAS Quantico, Va., and the Navy Pinecastle Bombing Range in Florida.

The training involves, for the first time in more than 10 years, the deployment of a Cherry Point Harrier squadron to Bogue Field in Carteret County, from where it will operate as part of the exercise, according to the release. The training also involves all other type of aircraft operated by the 2nd MAW.

The training also involves a newly built Wing Operations Center at Cherry Point that uses a variety of communications technologies, according to the release.

Previous such exercises have involved deployment to the West Coast, and by combining previous separate training events, the cost of the training is less expensive, according to the release. A specific figure was not provided.

________
A comment at Crossed Crocodiles by b real:
from the text of a speech by uganda's permanent representative to the UN at a june 15th UN meeting w/ the AU that the former did about everything possible to make invisible, short of actually canceling the event

"1. Thank you for organizing this interactive dialogue. It is good that the United Nations Security Council (UNSC) has met the African Union (AU) Mediation Committee (High-Level Ad hoc Committee on Libya) so that we can exchange views on the situation in Libya in a candid and frank manner. This should have happened much, much earlier because Libya is a founding member of the AU. An attack on Libya or any other member of the African Union without express agreement by the AU is a dangerous provocation that should be avoided given the good, relaxed international situation in the last 20 years since the release of Nelson Mandela from jail and the eventual freedom of South Africa.

2. The UN is on safer ground if it confines itself on maintaining international peace and deterring war among member states.

3. Intervening in internal affairs of States should be avoided except where there is proof of genocide or imminent genocide as happened in Rwanda or against the Jews in Germany and the European Countries that were occupied by the Third Reich.

4. There are differences on the issue of Libya as to whether there was proof of genocide or intended genocide. Fighting between Government troops and armed insurrectionists is not genocide. It is civil war. It is the attack on unarmed civilians with the aim of exterminating a particular group that is genocide – to exterminate the genes of targeted groups such as the Jews, Tutsis, etc. It is wrong to characterize every violence as genocide or imminent genocide so as to use it as a pretext for the undermining of the sovereignty of States. Certainly, sovereignty has been a tool of emancipation of the peoples of Africa who are beginning to chart transformational paths for most of the African countries after centuries of predation by the slave trade, colonialism and neo- colonialism. Careless assaults on the sovereignty of African Countries are, therefore, tantamount to inflicting fresh wounds on the destiny of the African peoples. If foreign invasions, meddlings, interventions, etc, were a source of prosperity, then, Africa should be the richest continent in the world because we have had all versions of all that: slave trade, colonialism and neo-colonialism. Yet, Africa has been the most wretched on account of that foreign meddling.

5. Whatever the genesis of the intervention by NATO in Libya, the AU called for dialogue before the UN resolutions 1970 and 1973 and after those Resolutions. Ignoring the AU for 3 months and going on with the bombings of the sacred land of Africa has been high-handed, arrogant and provocative. This is something that should not be sustained or repeated. To a discerning mind, such a course is very dangerous. It is unwise for certain players to be intoxicated with technological superiority and begin to think that they alone can alter the course of human history towards greater freedom for the whole of mankind. Certainly, no constellation of states should think that they can recreate hegemony over Africa.

6. The safer way is to use the free gift God gave us – the ability to talk – in order to solve all problems.

7. The UN or anybody acting on behalf of the UN must be neutral in relation to the internal affairs of states. Certainly, that should be the case with respect to the African countries. The UN should not take sides in a civil war, for instance, in an African country. The UN should promote dialogue, reconciliation, the peaceful resolution of conflicts, and help in enforcing agreements arrived at after negotiations such as the agreement on the Sudan.

8. Regardless of the genesis of the Libyan problem, the correct way forward now is dialogue without pre-conditions. The demand by some countries that Colonel Muammar Gadaffi must go first before the dialogue is incorrect. Whether Gadaffi goes or stays is a matter for the Libyan people to decide. It is particularly wrong when the demand for Gadaffi's departure is made by outsiders.

…
16. The story that the rebels cannot engage in dialogue unless Gadaffi goes away does not convince us. If they do not want dialogue, then, let them fight their war with Gadaffi without NATO bombing. Then, eventually, a modus vivendus will emerge between the two parties or one of them will be defeated. The attitude of the rebels shows us the danger of external involvement in internal affairs of African countries. The externally sponsored groups neglect dialogue as well as building internal consensus and, instead, concentrate on winning external patrons. This cannot be in the interest of that country. Mobutu's Congo as well as performance of all the other neo-colonies of Africa in the 1960s, 1970s, 1980s and their eventual collapse in the 1990s prove that foreign sponsored groups are of no value to Africa."

inner city press has been providing a lot of coverage recently of US/UN efforts to quash African voices on this issue

Source: Pan-Africanist International:
|
Article source