Abiola's Son Deji Begs Judge To Approve Bail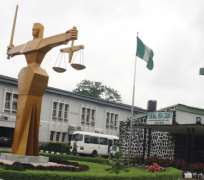 LAGOS, June 24, (THEWILL) – Deji Abiola, son of late billionaire MKO Abiola has asked a Lagos High Court Ikeja to admit him to an unconditional bail pending the determination of the suit, in a filing made today.
Deji was charged in a one-count charge of stealing and fraudulent conversion of about N35.5 million naira belonging to Irede Property and Investment Company Limited, owned by Mr. Babajide Jose.
The Economic and Financial Crimes Commission had charged Deji to court alleging that he embezzled funds paid to his company for the purchase of a printing machine.
In the application filed by his counsel, Dr. Gbolahan Elias SAN, Deji averred that the matter before the court was indeed a civil matter and not a criminal matter. He said it was a mere case of a business gone bad.
Deji's company was named as Caledonian F.Z.E in the filing.
Deji Abiola argued that he has never been convicted in the past for any crime either in Nigeria or abroad, adding that he was earlier granted an administrative bail by the Economic and Financial Crimes Commission (EFCC) in 2010, and did not breach any of the conditions attached to the bail during investigations into the alleged crime.
He said he was ready to defend himself against the charges in court.
Deposing to an affidavit in support of the bail application was his sister, Mrs. Adijat Mobolaji Abiola-kuku.
In her deposition Adijat averred that, "The Applicant (Deji) is the Managing Director of both Caledonian F.Z.E and Abiola Publishing Limited ("Abiola Publishing"). Caledonian F.Z.E is a company organized under the laws of the United Arab Emirates, Dubai. Abiola Publishing is a company incorporated in Nigeria. Both companies are related in that they are owned, managed and being run by the Applicant.
"Some time in 2008, the Applicant's company, Caledonian F.Z.E entered into a contract with Irede Property and Investment Company Limited ("Irede") for the supply, shipping and installation of a Hielderberg Speedmaster Colour Printing Machine ("the Machine"). The contract sum was N118, 500,000.00 (One Hundred and Eighteen Million, Five Hundred Thousand Naira only). Bruni Engineering AG of Switzerland ("Bruni") was the overseas supplier of the Machine.
"Irede paid the Applicant's company, Abiola Publishing N35, 550,000.00 (Thirty-Five Million, Five Hundred and Fifty Thousand Naira) as an initial deposit ("the Deposit"). The Applicant's company, Caledonian F.Z.E in turn paid the Deposit to Bruni," she stated.
Recall that the EFCC formally charged Deji Abiola yesterday (Thursday) before a Lagos State High Court in Ikeja presided over by Justice Adeniyi Onabanjo but he did not enter a plea as his lawyer said Deji had not been briefed on the charges against him.
He was thereafter remanded in EFCC custody by the judge who adjourned proceedings till Thursday, June 30, 2011 for the commencement of trial and bail consideration.
The one-count- charge against Deji Abiola reads: "That you Deji Abiola on or about 21st day of May 2008 at Lagos within Ikeja Judicial Division with intent to defraud knowingly and fraudulently converted the sum of N35,550,000 ( thirty five million five hundred and fifty thousand naira ) property of Hamza Babatunde Jose of Irede Property and Investment Company Limited". The alleged offence is punishable under section 390(8) (b) and (9) of the Criminal Code Law Cap c17 Vol.2 laws of Lagos State 20003."