OGUNKOYA, OPARA WANT AFN TO SET STANDARDS FOR QUARTER-MILERS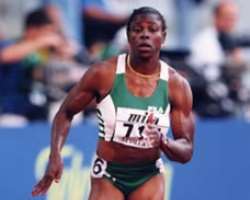 African women 400m record holder, Falilat Ogunkoya and her rival during their track days, Charity Opara have called on the AFN to set standards as a way of reviving the dwindling fortunes of Nigerian quarter-milers.
Ogunkoya and Opara who sat with other ex-internationals at the state box of the U.J Esuene stadium in Calabar gawked at the low level performance of the men and women 400m runners at the Cross River All Nigeria Championships. They declared that the only way out, was for the AFN to task the athletes and at same time pursue grassroots athletics development programme.
'We have to set standards for our athletes in the 400m. It is very disheartening what we are seeing and something must have to be done to restore Nigeria's stronghold in the event.
'During our days we were given standards to attain and we thought that it was killing. And that was why you had a very strong rivalry in the men's and women's 400m. In the women, you had me, Fatima Yusuf, Charity Opara and Bisi Afolabi.
'We have the athletes but they are not bringing out their best. We really need to go back and see how it was done in the past,' said Ogunkoya who achieved 49.10 seconds at the 1996 Olympics Games to settle for a bronze.
Opara stated that the states are not doing enough and before standards are set, there has to be grassroots development.
'Yes we need standards. But the question is how many states are doing what they are supposed to do to develop athletics? In Imo where I live, there is virtually nothing happening. So we need to have all the states developing athletics and then when we have a glut of talents, we can begin to think of setting standards,' Opara said.
Osazuwa sizing up heptathlon world
Uhunoma Naomi Osazuwa doesn't talk much, but she is packed full with determination to make a name for herself in the world of athletics.
She sneaked into the country unheralded to participate in the Cross River All Nigeria Championships with the hope of picking up a team slot to represent Nigeria at the World Championships in Daegu, Korea and the All Africa Games in September in Maputo, Mozambique.  And by the way she has been going about her business at the national trials, it is certain that she will be making her international debut at either of the upcoming meets.
'I'm looking forward hopefully to wearing the Nigerian colors at the World Championships in August,' said the athlete pursuing a doctorate degree at the University of Michigan.
She said that competing among the local athletes has been an exciting experience and was looking forward to the All African Games with the view of making a serious impact.
'I know of Margaret Simpson of Ghana, I competed with her at a meet in Mauritius recently . It will be a new experience all together competing at the All Africa Games and the World Championships.
Athletics Federation president, Solomon Ogba is hopeful that Osazuwa will fill in the gap created by the exit of Patience Itanyi, the national record holder with 5,700 points.
'We have not had any serious completion in the heptathlon that is why I'm banking on Osazuwa to make the difference there,' Ogba said.
Itanyi also backed Osazuwa to go the entire yard and make good her presence. 'She is good, but there is still room for improvement and we are looking forward to seeing her do her thing.
Osazuwa's mum who braved all the hardship associated with travelling in Nigeria to support her daughter stated that the medal hopeful with a personal best of 5653 was very enthusiastic about coming home to represent Nigeria.
'She hasn't been home since she was four years old. And she was very enthusiastic about coming to Nigeria, she could just wait to get on the plane. So for it has been a rewarding experience for her,' said Mrs. Osazuwa.