MEET MUSIC STARS FROM PORT HARCOURT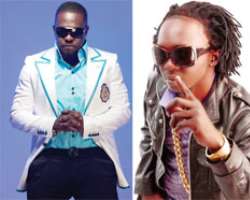 Over the years, thanks largely to the evolution of the comedy industry, Warri, Delta State, has become synonymous with comedy. Hardly is a Nigerian comedian considered funny unless he has a trove of jokes derived from Warri and its various attributes. Now, Port Harcourt, Rivers State, is gradually becoming to music, what Warri is to comedy. In the last couple of years, some artistes, born and bred in the Garden City, are foraying into the music industry, turning it by the ears and sustaining music lovers' attention. Though there have been other artistes in the past, we takes a look at four of the reigning artistes from Port
Timaya
Long before he literally retraced his roots and rechristened himself the Egberi Papa 1 of Bayelsa, Timaya had always been a Port Harcourt boy. He grew up in Agip Estate, a stone's throw from the city's GRA It was there his music skills were honed. It was there he found fame and fortune. With the success of his debut album, True Story, Timaya became a national star. The oil-rich city, where he had toiled and laboured, derided by cynics for holding stoically to his dreams, became his oyster and playground. Unverified reports had it that in the early days of his prosperity, the hitherto controversial star, brash and confrontational, would drive around in his state-of-the-art cars to places and homes where he was treated as an outcast to show off his newfound wealth. He told E-Punch months back that at a point, the city became too small for him and he decided to relocate to Lagos permanently about four years ago. However, he never hesitates to wax lyrical about his days in Port Harcourt a la his recent single, All the Way, which details his now clichéd grass to grace story. East or west, home is still the best as E-Punch exclusively gathered that Timaya is putting up a massive country home in an exclusive area of Port Harcourt.
Duncan Mighty
There is no mistaking Duncan Wene-Mighty's identity. No other musician, arguably, in recent history, has identified with a particular city as vociferously as this sturdy young man. He has indoctrinated the old and the young; the elite and the ragtag and the bobtail; firm and infirm, into calling themselves a 'Port Harcourt Boy'. You don't get it? Walk the streets of Port Harcourt or go to a typical party in the city and see how different classes of people leap and spin whenever Duncan's hit song, 'Port Harcourt boy' blares out of the speaker. At such times, you feel almost sad not hailing from it. Duncan has made it fashionable to be addressed as a Port Harcourt boy irrespective of age or status. That is the power of the song which is further made popular by his exaltation of every successful Port Harcourt person in recent history. Like Timaya, the self-acclaimed Port Harcourt first son should have become a major celebrity in Lagos but his Lagos odyssey was truncated before it teed off. A songwriter, singer and producer, Duncan's proposed five year-deal with the Mo'Hits crew was denied by the label boss, Don Jazzy. At that time, Duncan had told everybody within earshot that he had been signed by the label which some of Nigeria's best selling acts like D'banj, Wande Coal and Dr. Sid call home. Nonetheless, the Ikwerre native is enjoying enviable patronage from the Niger Delta axis where he is the most sought after act and the envy of other artistes.
Waconzy
Kelvin Anyanwu is called several names among - 'Supa Dupa Nigga' and 'Awah' etc, but he prefers to be called Waconzy, a derivative of Wacko and Zany. He is the latest addition to an increasing list of Port Harcourt boys making good in the music industry. Waconzy has been in the industry for close to 10 years but he didn't start getting attention until recently; this was after the popularity that trailed his album, I Celebrate. Incidentally, he released his first album in 2000, fresh out of secondary school. Whilst he is not on the same page with Timaya or Duncan in terms of popularity and patronage, Waconzy is gradually cultivating his own fandom and clientele. A Project Management graduate of the Federal University of Technology, Owerri, Imo State, Waconzy combines impressive rap skills with soothing vocal abilities.
Frank D'Nero
For some reasons, the spotlight has continued to elude Frank D'Nero even though he has been in the industry, professionally, before any of the trio. This, however, does not diminish from his Port Harcourt roots. Frank, whose real name is Ibiba Frank Higwe, is one of the early stars from the volatile but oil-rich city. He first made a major splash in the music scene back home in 2003 as a member of the now defunct group, Tuck Tyght All Stars, which went on to release an album, 'Now Official'. The album spawned a hit single, 'Suffer Market'. He would later leave the group because, "It was not like things were not going on well with the group but there is nothing as good as doing your own thing." Moving on, he released a full length album, 'Kalangolo' which was, however, greeted with lukewarm reception. Despite that, the album heralded his arrival in Lagos. On arrival at the 'Centre of Excellence', the industry he met was competitive and top-heavy but he would find his niche after participating in the Zain MTV Advance Warning in 2008. Notwithstanding the attendant exposure, Frank D'Nero's career has rather been at a standstill. He is nowhere near his kinsmen in the music pecking order.