NWOSU GIVES DREAM TEAM RECIPE FOR VICTORY OVER GHANA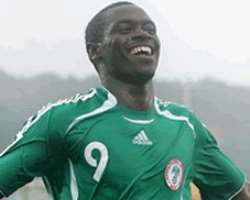 Chrisantus
Former assistant coach of the Dream Team iv, Henry Nwosu, has lent his voice to how the present dream team can beat Ghana this weekend. Nwosu, speaking on phone yesterday, told Daily Sunsports that his boys were able to overcome the star-studded Ghanaian team to qualify for the Olympics the last time they met and urged Coach Austin Eguavoen and his boys to play attacking football throughout the duration of the match.
According to Nwosu, Ghanaians are good at forcing opponents to play their pattern when the opponents sit back in defence, but they get distracted when they concede early goals.
' Yes, Ghana is not an easy side to play in any category, especially when she is paired against Nigeria.
Ghanaians usually throw in everything at their disposal to make sure they defeat Nigerians, but when we played them during the last qualifiers for the Olympics, we decimated them because we understood their tactics perfectly.
The squad we play then was more dreaded than the boys on current poarade. They had the like of Asamaoh Gyan, that could wreck any defence but he was caged. So, all I can tell the Dream Team is that it should attack, attack and attack through out the duration of the match. They must not craw into their shells because if they do, the Ghanaians that I know will surprise them.
Again, they must go for early goals to destabilise the Ghanaians' game plans. We did it and I am convinced the boys can do it again. Meanwhile, the number of players in the National Under-23 camp in Benin City on Thursday jumped to 22 following the return of AC Milan midfielder Nnamdi Oduamadi and new entrant from Israeli club, Sakhnin, Agboola Babalola who was invited following the delayed return of Nurudeen Orelesi for Saturday's clash against Ghana in the All Africa Games qualifier.
'Yes, am rested and fully ready for the game against the Black Meteors' declared Nnamdi Oduamadi on arrival from Lagos. Agboola Babalola who is getting his first call up to the National team said' I am glad to be here. I have been looking forward to an opportunity to play for my fatherland now that I have found it in the Dream Team V I will put in my best if am called upon by the coach'
Still being expected in camp as at the time of this release, is Nosa Igiebor, VVV Venlo attacking midfielder, Ahmed Musa who was permitted to see his family in Kano. Nurudeen Orelesi, Haruna Lukman whom both left camp to complete their contracts in Ukraine and Albania still remain doubtful for the game against Ghana.
There has however been tremendous improvement on the injury worries in the team as Obiora Nwankwo and Eneji Otepka began training on Wednesday. Oseni Ganiyu who has not been able to kick a ball in the last three days due to blisters suffered in the game against Tanzania, is now fully fit. ' I am now fit, the blisters have healed. I cannot wait to join my colleagues in today's training session' an excited Oseni declared.
The Dream Team rested this morning to train this evening at the Samuel Ogbemudia stadium.
Meanwhile the Black Meteors of Ghana arrived the country today with a 28 man contingent.
The Coach Kwesi Appiah tutored side would have a feel of the Samuel Ogbemudia astro turf on Friday by 4pm. The Nigeria Ghana game kicks off by 4pm on Saturday.