SEX IS A GENDER AND ALSO A GAME.ACTRESS BIODUN OKEOWO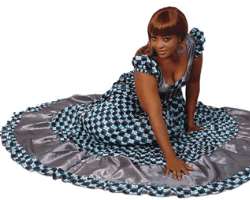 The up and coming petite and sexy actress, Biodun Okeowo of Tolani Oshinrin fame is no doubt one of the actresses that are rapidly rising in profile in Nollywood Yoruba sector. The Ogun State born beautiful actress is not just an ordinary actress but a producer with a good repute.
Tolani Oshinrin as she is fondly called by her fans has had about five movies to her credit within the short period of four years she delved into the industry among which are Tolani Oshirin, Okanjua, Oke Irapada, among others.
The graduate of Communication Arts from Lagos State University (LASU) talks about her marriage and some other vital issues that will interest you.
Excerpts from the interview;
Is Biodun Okeowo married?
Yes, I am happily married.
So, what is your thought about marriage?
Marriage is a learning ground and it's also a pride of every human being on earth and it's not a bed of roses.
So, what lesson has marriage taught you since you have shared out of the cake?
The lesson is perseverance and patience.
Is your marriage blessed?
Not yet but I have two kids before and I started new life a year ago.
That means you haven't got any Issue for your new hubby?
No!
Is your husband in support of your career?
He is fully in support.
What is your feeling or view about sex?
Sex is a gender and also a game between male and female.
So how do you play the game?
You are not my husband, what you are talking about is my private life and It should be treated exclusively with my husband not you or anybody.
If that should be the case, how often do you think it should be done between the couple?
I don't know but what I know is that, it's an emotional thing that you engage In It with the right person at any time you feel like doing it.
Things have changed in this millennium, most of Teenagers Involve in pre-marital sex while some become Papa or Mama at tender age. So what is your thought about pre-marital sex?
It is a very wrong event and it should not be done in the presence of Teenagers.
What would you say to those that experienced It and have made It an official work?
They should stop it because that is not best for them.
Are you a victim of pre-marital sex?
I don't know.
Were you hooked up as a virgin?
Of course no.
Then let's agree that you are one of the victims?
That is left for you.