SAHEED BALOGUN SHOOTS ALL WHITE CAST MOVIE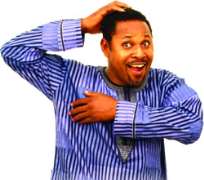 Saidi Balogun is no more a new actor when you talk about movie industry in Nigeria; his name always strikes a familiar cord in the minds of movie buffs in the country because of his outstanding contribution to the industry.
In a recent interview, he talks about his next movie project.
Excerpts from the interview;
"My Fans should expect (YOU OR I).The movie promises to be a blockbuster. I am the only black guy in the movie; everybody in the movie is white, yes Oyinbos.
I did one thing for Otunba Segun Runsewe,in France I went to shoot on tourism, I was putting on Ankara over jeans, I am telling them that the blacks are over the whites because jeans is for white, Ankara is for us, so we are on top.
I am the only black guy like Obama who is ruling USA as the largest white population in the world.
When you watch the film, you will see a film being made by black not for the black alone but for the whole world to see.
His latest movie Eti Keta that gulped over #3o million naira is still selling fast in the market.