ARE YOU A JONATHANIAN…?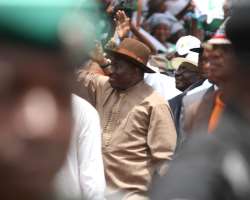 PRESIDENT GOODLUCK EBELE JONATHAN.
Don't ask the deaf man to beat a drum for you to dance - Anonymous
Since inception of the Jonathan government whether by necessity, free and fair election, forensically rigged selection, with shoes or without, has been one government that has come as a pot of mixed grill. The fact remains that, as it is today, Mr. Jonathan Goodluck is President of Nigeria.
I love Nigeria, we largely a people with a short fuse memory, preferring to largely forget very quickly from a point of learning slowly, we either never remember or we choose to totally forget. In the last one week I have read El-Rufai in his essay Tough Choices, responses to it too, notably that of my friend Reno Omokri, a Jonathanian I dare say.
With some 18 months gone, many are divided as to what Jonathan has achieved, will achieve and cannot achieve, in these few lines I speak for a group called the Jonathanians. Who are the Jonathanians, what is their creed, believe and why should we believe them?
A Jonathanian believes that President Goodluck Jonathan GCFR is a good man; he is a nice man, with a good head and heart. They believe that President Jonathan has the capacity and capability to bring and sustain change in this country. They say, they believe and have keyed into his Transformation Agenda. They also believe that the Era of Lamentation is over. Each day, they hold him to his words "I will never never fail you"!
That is the creed of the Jonathanians; this group of persons say among all the candidates during the April polls, Mr. Jonathan was the best.
They agree amongst themselves that he may not be an Angel but he will perform more than any other candidate would have performed had they won.
The Jonathanians say he has just spent a little more than a year in office. We all need to give him time, he is not the cause of our problems, and we should stop blaming him. They say that in time he will get into the swag, he is the Obama of our clime, I mean he has seen Obama twice now; Nigerians are just impatient and are not being fair.
These set of Nigerians ask that we should leave him to work on his pace, otherwise it would be seen as if the major ethnic tribes are pressurising him because he is from minority. He is presently doing more than Yar'adua did in 3 years.
Infact a look at his performance index tells you a lot. He has performed already, whether the fuel comes from Gabon, Ghana or Guatemala, there is fuel and that's what matters and on the issue of Kerosene, its first saboteurs and secondly we are working hard on the gas project and soon we won't need Kerosene.
The Jonathanians believe that Jonathan should be given a chance to prove himself. He is the first PhD holder to live in Aso Rock, infact one said, if not for anything; GEJ is a fresh and young man. This I could not but agree, especially after that lunch with youths at the Eko Suites in Lagos.
For those that do not know, despite all the election petition cases, give it to him, under Jonathan Nigeria held the fairest poll in its history, International observers confirmed the outcome. Meaning we should stop all these June 12 noise.
He strengthened his position by pledging not to run again, lessening the need to buy support from cronies. What else do you want from a President, our own first facebook president, second only to Obama.
If you do not believe that Jonathan is the real deal, I will tell you even the Clintons of America are Jonathanians, hear Bill Clinton,...My wife, Hillary Clinton, who happens to be the US Secretary of State, says good things about President Jonathan, including the fact that your hats are always cool,".
A comment which drew applause from other Jonathanians that included top UN and US officials like the Secretary General of the UN, Ban Ki-moon.
The Jonathanians today were those that praised Obasanjo to high heavens, some of them were part of the third term project; most of them were on television, the print, radio, new media preaching the Yardy's 7 point agenda, rule of law and law of rule.
Nigeria didn't build a single power plant in the last 20 years of the 20th century. It didn't maintain one either. But billions have gone into power projects as we try to NITELIZE PHCN. Today, we currently produce the same amount of electricity as New Hampshire. Alabama alone could power five Nigerias, but the Jonathanians say that will be a thing of the past.
After all even if the journey by the New Nigerian Railways Corporation was over 5 hours from Lagos to Ibadan, what really matters is not the time but the fact that the railway in question is that of the Royal Niger Company of the '19luggard', when our contemporaries in this long walk of nation building are building entirely new rail systems we are renovating dead ones.
Mr. Jonathan has said in not many words, government has no business in education, he will privatize this and that, do this and that, I remind the Jonathanians that he promised just one thing but with every time he opens his mouth he makes another promise.
The Jonathanians need to be reminded we are waiting for the airports, not that it concerns the poor man where the rich man flies to; the universities, these days hardly affordable to the masses; the power, that would be the eighth wonder of the world and with the Nigerian soap currently featuring Bankole, Nafada, and EFCC whether Mr Jonathan has the will to tackle the establishment remains to be seen.
Jonathan comes in a manner similar to the evil genius, plenty of goodwill, the timing could not be another, and he has the chance and opportunity to help repaint the picture of a sleeping giant.
To the Jonathanians, tell Mr. Jonathan, that it's his call, to be or not to be, he does not have to listen to us.
All the statistics of his tame achievements mean nothing to the civil servant who knows that N18,000 can do nothing, it makes no sense in the light of no kerosene, in the worst of economic times Nigeria has always had fine figures and indices of progress, but on ground many of us know better.
But for all you the Jonathanians I end my admonishments with the following...Dàda ò leè jà, á¹£ùgbọ́n ó lábùúrò tó gbójú meaning that Dada cannot fight, but he has a brave younger brother. One may not be able to do much, but one has relatives to take one's cause. Jonathan had better start because he has not started!
Epilogu
All the niceties can keep flowing, while 5 corp members remain in the kidnappers den in Port Harcourt city, the same city will be giving the first lady a honorary doctor of letters...and who would begrudge the 'umblella' woman all the letters she has written or rather spoken.
Written by Prince Charles Dickson.

Disclaimer:

"The views/contents expressed in this article are the sole responsibility of the author(s) and do not necessarily reflect those of The Nigerian Voice. The Nigerian Voice will not be responsible or liable for any inaccurate or incorrect statements contained in this article."
Articles by thewillnigeria.com