BOKO HARAM: MASS TRANSFER LOOMS IN POLICE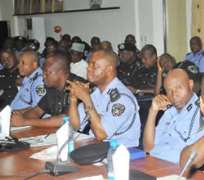 There are indications that the police high command is set to effect a mass transfer of officers and men of the Force as a fallout of last Thursday's bomb blast at the Louis Edet House in the Central District of Abuja, which a fundamentalist Islamic sect, Boko Haram has claimed responsibility.
At least three persons, including the bomber and an Assistant Superintendent of Traffic (AST), have been officially confirmed dead in the explosion by police spokesman, DCP Olusola Amore. Over 70 vehicles were destroyed in the blast with 38 beyond redemption.
The incident propelled the Inspector General of Police, Hafiz Ringim, to summon an emergency meeting of senior officers from the rank of Commissioner of Police and above from all formations nationwide to the Police Headquarters in Abuja, yesterday.
The meeting, which was convened to strategise on renewed threats by the Boko Haram, could not hold as scheduled, as the IGP was reportedly summoned to the Presidential Villa for
reasons which could not be ascertained as at press time, but it eventually held for about three hours.
While crime/police reporters, who normally covered the monthly parley were excused at the commencement of the session, men and officers of the IGP secretariat and the Force Public Relations Department, who usually took record of proceedings were equally asked to leave the conference hall ostensibly to pave way for discreet deliberations.
Crime reporters were, however, told to assemble by 10. am today, when the meeting had been rescheduled for a briefing by the IGP on its outcome at the end. But the move is largely seen as a ploy to fence off reporters from the agenda of the meeting, which sources confided, was principally to deliberate on the increasing threat of the Boko Haram insurgence.
Foreign under-cover intelligence operatives have since moved into Nigeria in the aftermath of the Police Headquarters bomb blast to unravel the perpetrators and sponsors of the recurring incidents of explosions, which had claimed dozens of lives in recent times.