Strife and poverty fail to stem $700m Nigerian film industry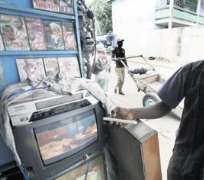 Nigeria is taking great strides in the entertainment world as it grows into the second largest employment sector in the country.
For the $700 million (Dh2.5 billion) annual revenue industry with almost 2,500 films produced ever year, Nigerian filmmaking seems quite impressive.
The industry is quite successful too, as profits comprise 50 per cent of the annual revenues.
Nigeria's film industry – second only to the oil sector – employs around two million people, including directors, musicians, sound recordists, technicians, cameramen and actors.
Nollywood is, however, struggling with the adversities of stereotypes, propaganda, and Francophone film funding, usually driven towards depicting the negative aspects in the African world of poverty, strife and Aids.
Peace Aniyam-Fiberesima, Founder of the African Movie Academy and producer of the documentary Peace Mission, has done a lot to set the record straight of an industry that has grown from the sheer need for entertainment. She was in Dubai to attend Dubai International Film Festival (DIFF). Speaking to Emirates Business, Aniyam-Fiberesima said digital technology has helped the Nigerian film industry move forward. "Digital technology has helped us a lot, developing the quality, and the equipment. We've been able to show that we can drive an industry by just shooting on a digital camera and editing on a laptop.
"Nigerian cinema is more than 100 years old. We have some classic films shot in celluloid. But in 1992 and 1993, filmmakers couldn't afford celluloid anymore, so there came a revolution in filmmaking with people shooting on video and selling on VHS and later CDs and DVDs, and that is how it grew in popularity.
"There is a lot of demand on producing more films because it is not safe to go out at night, so people just rent or buy films and stay at home to watch movies with their family and friends. Films could be rented for less than a dollar, bought for a little more than a dollar, while viewing centres charge an equivalent of 20 cents to watch a film," she said.
Nigeria produces movies in English and local Nigerian languages. These films have a huge market in African countries. In addition, the Nigerian film industry has won audiences in Jamaica, Barabados, Haiti, as well as the African-American population and the people of African origin in the United Kingdom, she said.
"We are profitable. The driving force behind filmmaking was initially the commercial value. People were seeing the fact that if they invested $20,000 on a film, it would make $70,000 to $100,000 within the span of six weeks," said Peace.
Even now with more developed technologies, cost implications in Nigeria are nowhere near those of most films in the Western world.
"Of course, there are limitations to our film industry. Fortunately, DIFF allows screenings of film productions in different genres. However, many of the international festivals do not accept films other than celluloid. We are moving to the digital age and the world is at an economic crunch; how many people who want to make films and express their creativity can afford to wait forever to get huge amount of funding to their projects.
"If we can get the budgets we can make huge films. But we are from Africa dealing with strife, poverty, intolerance and corrupt governments. We are looking at a people who have been totally determined to survive any how and that is what actually helped Nollywood grow," added Peace.
Peace, however, said the abundance of film production has created a decline in quality. "The quality is sometimes rubbish, but at most times capable of making good profit, because what we consider as good quality film may not necessary be what the woman in the village cares about. She might just care about the story line," said Peace.
Issues such as funding and training remain as challenges. The African Movie Academy requires $5m. Peace has succeeded in securing a three year sponsorship through the United Bank for Africa and the State Government of Bayelsa, the first to discover oil in Nigeria and to seek diversity in economic resources through encouraging the entertainment business.
"Most of our funding were internally generated through family members or local sponsors. That is how first started making films," said Peace. "Should the government develop a better structure and legislation to fight piracy, the filmmaking industry in Nigeria would grow even further."