HAVE A SPA TREATMENT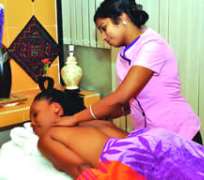 The Spa is a wellness getaway to energize and revitalize, relax and regain lost prolonged beauty. Overall, a day spent at the Spa is a splendid experience to rediscover the inner self through an extensive range of treatments ranging from massages and body scrubs, to relaxation treatments and beauty therapies.
In order to provide clients with a place to restore and maintain optimum health and wellness, Spa Lavender has opened in the heart of Lagos. The luxury day and late evening Spa, located right inside Mende, Maryland, Lagos, integrates health and wellness into an urban environment.
During a facility tour of the wellness shop, the Consultant, Dr. Anin Kumar, revealed that all the treatments within their range embrace the tropical climate and aim to bring the body into harmony with the rhythm of nature.
According to Dr. Kumar, the philosophies behind their therapies are influenced by Ayurveda, an indigenous Indian healing wisdom and centuries old European therapies.
'Our unique spa therapies restore seasonal harmony with aromatic essential oils which further helps to clear the mind and relax the body. At the end of each treatment, the Spa journey is brought back to the present moment with the Spa Lavender awakening ritual, incorporating the spraying of a gentle rose mist to refresh the mind and awaken the senses. Influenced by traditional therapies and the ability for the body to reconnect to it natural rhythm, Spa Lavender is a truly inspirational place for the mind, body and spirit'.
The spa incorpotrates state-of-the-art health club, wet and dry therapies, beauty treatments, massage, manicure and pedicure, Jacuzzi, steam and sauna, lounge, swiming pool and car park facilities.
'Spa Lavender is a prominent destination for women and men who seek relaxation and mental enrichment in a stress free atmosphere', Dr. Kumar said.
Spa Lavender is offering exclusive beauty and healthcare treatment designed by experts by blending both the traditional and modern wisdom. To take full advantage of the spa experience, clients are advised to plan an early arrival and prepare their body to accept the excellence of Spa Lavender therapies.
In addition to beauty treatments, Spa Lavender offers exclusive range of beauty, spa and Ayurvedic products exclusively by Elmis, a leading luxury British spa and skincare brand favoured by as many.