Orlando Owoh's children take family oath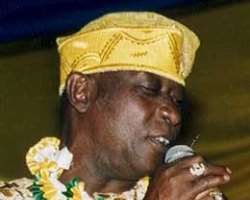 ...as Kinsmen fix January for burial
In spite of series of meetings and consultations by family members of late Stephen Olaore Oladipupo Owomoyela popularly called Orlando Owoh, burial plans for the late Kennery King seems to pose as an herculean task to members of his family as there is no specific date for the music icon to be finally laid to rest.
More so, children of the late legend seem to prevail on the family members, to burry their father in Lagos while some members of the family want him buried in his home town.
When Showtime visited his Iyana Ipaja base, we observed that a coconut tree in the compound has been hewn down to acquire more space, (perhaps in preparation for the burial) while the condolence register was opened with his photographs conspicuously displayed but residents refused to talk to this reporter on the ground that the burial committee chairman is the only authorised person to speak on the issue.
Chairman Burial Committee Mr. Owomoyela Oduntan however arrived the place some hours later and in a chat with Showtime, he said burial rites has been fixed for the new year, specifically in January 2009, while the committee is yet to come up with a specific date.
According to him, it was difficult to arrive at a particular date because a lot of interest groups are represented in the burial plans, "My brother has touched so many lives when he was alive and as a result, we deem it fit to consider the interest of so many people.
Since a lot of interest groups are represented, we want to carry them along so as to arrive at a smooth plan. For instance, the two factions of PMAN have signified their interest," he said.
Owomoyela said the late Legend of kennery High life would be buried in his Iyana Ipaja base in order to meet the request of his children and respect wishes of the dead, "The children told the family members their father wished to be buried in this place (Iyana Ipaja) and we want to give them the honour and respect the wishes of the dead," he explained.
The children's decision to bury their father at Iyana-Ipaja does not seem to be a welcome development in the family as all of them have been asked to sign an undertaking for the burial committee.
According to what Oduntan told Showtime, "Since the children are of the opinion that their father should not be taken to his home town, only few of them want him buried in his home time while others want him buried here in Lagos.
As a result, we have asked them to sign an undertaken with the publicity secretary of the committee. By so doing, nobody will be accused of taking the burial plans upon himself. " he said.
Apart from choice of location, another challenge being faced by the committee is finance, according to the Chairman, "His five years sickness has gulped a lot of money while he was alive, more so, he was the type that loved to assist people and as a result, he left with little or no money which makes it difficult for us to lay our hands on cash.
Apart from burial arrangements, you know he has a large family to cater for, we shall use part of the money to see to the welfare of his immediate family. Although nobody can satisfy them like their husband and father, but we hope to try our best in this regard," said Oduntan.
Showtime however asked if the family would welcome any assistant from governments or corporate organisations, "Why not, it will help us to plan further. Orlando is a man of the people anytime any day. If anybody is willing to assist us in his burial, we shall really appreciate such development," he noted.
On why there is no specific date for the burial he said, "We want to be extremely careful so that people are not misinformed, we want to tidy up arrangement before we diffuse information to the public. We want to be careful with the press because we don't want a situation where a date would be announced and be changed later," he said.
Asked if any state government has paid condolence visit, he said no.
Oduntan also said of the late Kennery king, "Orlando Owoh has left a great vacuum in the family and the music industry.
We are glad he is not the only musician in this family, so we believe he is still alive. He has a number of records to his credit and two of his children are into music.
He is a man who always considered the interest of others before he did anything, may God grant him an eternal rest,"He also unfolds the family's plan to immortalise him, "His tomb will be well decorated to make it attractive enough . Apart from this, we hope to set up a foundation in his name. These will make people to remember his good works," he added.