Obi, Babalola, 94 Others Bag CIBN's Fellowship Awards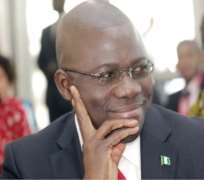 ABUJA, June 13, (THEWILL) - The Council of Chartered Institute of Bankers of Nigeria (CIBN) will on Saturday, June 18, 2011 confer its prestigious Fellowship award (FCIB) on 96 members of the institute for distinguishing themselves in the various sectors of the economy.
A statement by the CIBN today confirmed that two distinguished members, the Governor of Anambra State, Mr. Peter Obi and a former Minister of State for Finance and Chairman/Chief Strategist of Alternative Capital Partners, a fund manager, Mr. Remi Babalola, will receive the honorary fellowship award of the institute.
Obi was a director in Fidelity Bank Plc prior to becoming Anambra State Governor while Babalola was an Executive Director with First Bank Plc prior to his appointment as Minister of State for Finance by late President Umaru Yar'Adua.
The CIBN also stated that 94 others have been elected Fellows of the CIBN and would receive their awards during the 2011 Fellowship Investiture ceremony at the Federal Palace Hotel, Lagos.
Among the 94 elected Fellows of the institute are the Managing Director of the Nigeria Export Import (NEXIM) Bank, Mr. Roberts Orya; Yaro Musa Adah of Central Bank of Nigeria (CBN), Dr. Godfrey Chukwudi Ogbonna of Nigeria Deposit Insurance Corporation (NDIC), Yusuff Yinusa of Federal Mortgage Bank of Nigeria, Kayode Obasa of the National Planning Commission, and Habakkuk Bwakarshak of Unity Bank of Nigeria.
The Institute disclosed that the Managing Director of the Asset Management Corporation of Nigeria (AMCON), Mr. Mustapha Chika-Obi, would deliver a paper titled "AMCON as a Crisis Resolution Strategy for the Financial Services Industry."
Babalola is also a fellow of the Institute of Chartered Accountants of Nigeria (ICAN) and the Chartered Institute of Taxation of Nigeria (CITN), and a recipient of ICAN's Merit Award in 2009.
The former Minister was involved in the repositioning of the bank as a leader in the financial industry, and also contributed in the development and implementation of new initiatives to upgrade customer service quality, management of high quality risk assets portfolios, management of a fast growing deposit base, and proactive formulation of strategies to generate superior profitability.
He chaired the Federation Account Allocation Committee (FAAC) between 2007 and 2010 and played a pivotal role in the implementation of e-payment by Federal Ministries, Departments and Agencies (MDAs), sanitization of the insurance industry, and the return of over N46 billion proceeds from the Sale of Federal Government of Nigeria Houses to the government treasury.