EKITI STATE GOVERNOR'S DECLARED ASSET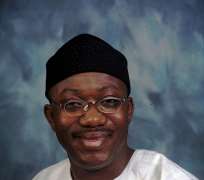 The governor of Ekiti State-Mr Kayode Fayemi is said to have declared the following has is personal asset a few months after been declared the authentic governor of the former fountain of knowledge, now referred to as the LAND OF HONOUR.
In total he declared an asset worth #750,000,000 Million both at home and abroad, broken down as follows- #27,000,000M in local & foreign accounts, buildings & undeveloped properties owned jointly by him & his wife, within & outside Nigeria - #474,000,000Million- the landed properties are a compound of 3 buildings in Ibadan valued #73million,a compound of 8 buildings in Ekiti valued at #120million, a 3 bedroom duplex in London valued at 280,000pounds, a 4 bedroom detached duplex in Atlanta,Georgia in the US valued at $250,000, another is a 6 bedroom detached house in East Legon,Ghana worth $650,000, an undeveloped plot of land at the Guzape District,Abuja valued at #30million, another undeveloped plot of land at Lekki Phase 1 valued at #25million, an undeveloped plot of land at the Ambassadorial Enclave,Legon,Ghana valued at #250,000.

His deputy- Mrs Funmi Olayinka was said to have declared assets worth #1,200,000,000 billion , to a lot of people they feel its a step in the right direction.