I'VE PUT MY PAST BEHIND - HALIMA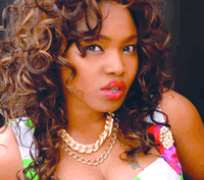 Halima
Halima Abubakar, Nollywood actress from Kogi State, has found her rhythm after 11 years in the industry. You might not know, but Halima was that teenager who grabbed the headline for all the wrong reasons in the past. She 'disappeared', so to say, to complete her education and reappeared with stronger purpose and different approach.
Now, Halima is no longer a novice. She is one of the most recognizable faces in Nollywood and can now stand tall and tough. Her encounter with SAMUEL OLATUNJI was supposed to be a 'quickie' (she vehemently objected to usage of the word), but they both ended up having an hour's chat during which she revealed how she picked up herself after every setback and the many lies written about her. Excerpts…
You wrote on your BB that you are a survivor, how come?
It is the grace of God, and I am very hard working.
What did you do or are doing right now that is making marketers ask for you in their movies?
We need to ask God.
So, you did not do anything extraordinary?
I told you I am hard working.
Tell me, how true is the N23 million house you allegedly bought in Maryland?
That is not for public consumption.
Is it true?
I can't answer that.
If I were to ask if Halima is happy, what would you say?
I am happy. I feel great and fabulous.
What were the goals you set for yourself at the beginning of this year?
The year is not gone yet.
Yes, but would you say you have achieved what you set out to achieve?
That is for God.
What have you got so far?
It is not for public consumption and it is for God, who has been doing it all along
When you read offensive news about yourself in the papers, how do you feel?
Well, I am not bothered because most journalists don't have anything to write, and they just write what they like. There are some papers that do junk to sell. But when I see it, I am always upset because I know what they are saying is not true, and when somebody is telling lies against you and trying to destroy your image, it is not professional.
But how does it make you feel as a person?
I have blood running through me as a person, and I feel bad because it is a bad message they are passing across.
Does it bother your family?
Of course, they are human.
You are not from the core east and you are making waves in the English movie industry. Apart from God and hard work, what other things would you ascribe to this?
What else would you ascribe to it? This is my 11th year in the industry. If I don't make it now, I don't know when I would make it again. So it is just the time. There is nothing special about it. I have the talent and when you watch my films you will understand why.
Which of your movies has been most challenging?
Well, I am still waiting for that exciting and challenging character. I am still waiting for that and so far it is wonderful.
Who are your favourite directors?
All the directors I have worked with are my favourites and the ones I have not worked with, when I do, I will include them.
Which particular one really gives you the extra nudge?
Andy Amenechi.
Which movie was that?
It is not out yet. It features Rita Dominic, myself, Ngozi Ezeonu and Pete Edochie.
What movie are you talking about?
I don't know the title because it is not out yet.
Eleven years in the industry is not a joke. What would you tell incoming ones as the secret to success in this industry?
Patience, believe in yourself, dedication to the job and hard work, and also to be prayerful.
In your quiet time, what goes through your mind?
A lot of things. There are some I don't want to share. But I went through what everybody that is waiting for God goes through.
What about those who have been waiting for more than 11 years? Should they still be patient?
They should believe in what God has mapped out for them and look out for the direction God is pushing them.
During those periods, did it cross your mind to quit?
A lot of times; more than ten times.
Why didn't you quit?
Because I love it and I am not here just for the fun of it. I won't waste 11 years of my life doing something I don't like. I believe in myself and I know I can actually do this. So, when I go I come back to it and I say to myself let me just try again, and that is just it. I just kept pushing.
What did you do when you took a break from acting?
I went back to school and came back to start from square one again in Nollywood.
How many years did you spend in the industry before going back to school?
It was just three years, and I left for five years.
How come you were able to pick up from were you left off?
That is what I said before I went back to the beginning to start all over again; going for one audition or the other because I have no godfather or anybody that would give me a role.
When you were there initially, who were your colleagues?
I was aware of Funke Akindele, Genevieve, Victoria Bernard, Rita Dominic, Monalisa Chinda. Some of them could be older than me in the industry, but these are some of the people around then.
When you came back and saw that some of them have actually gone far, did you feel bad?
No. I went to school and it was like wow, and we used to do auditions together and I still speak with some of them. I was not in a hurry because I had gone to school. I cannot be sad because I am not God.
When you look back at your life and your story in Nollywood, what comes to your mind?
I just say thank you Almighty God.. Alhamdullahi
Are you religious?
To some extent, yes, I am.
Do you pray five times daily?
Let's leave that religion thing. I just said thank God.
Tell me about your school life?
School is in the past and now we are looking toward the future. That is what I am concentrating on because I don't want to go back to the past.
Okay, what are your plans for the future?
It is in God's hand.
But you should have some basic plans, don't you?
Yes, but God knows what will happen. So let's just wait and see what happens.
Are you fulfilled as an actress?
Nope, not yet.
What would make you fulfilled?
The day I am fulfilled means I am…
What would it be?
There are lots of things that are special in your heart and it is not proper to say them out. If I say all these now, there is nothing I am keeping for God again. Let us just say He knows my heart and knows what I want.
Is it true you dated former Super Eagles player, Ifeanyi Udeze, as reported in the media?
No, I did not date him.
Have you ever dated a footballer?
My boyfriend is not a footballer.
What would you say about Nollywood?
Nollywood is changing rapidly and we have to grow with it and move with the pace it is going. We are doing quality jobs and a lot of people are interested in movies these days, and because of that we need to put more effort in our characterization and in ourselves too. Image-wise and professionally, Nollywood has come of age and I know it's just the beginning.
What would you say are the factors driving Nollywood?
I think is the zeal to be better and to make it more glamorous, be it Yoruba or English movies. A lot of people have now realized that it is no more a joke and they have to be serious. I am really happy that stakeholders are taking decisions that are right and carrying everybody along.
Is it true you have to belong to a clique in Nollywood to make it?
I used to think so because there were some people doing that and they are still doing it but it is like dividing Nollywood. I believe everyone should have a substance because you are killing your career in a clique.
Do you have a clique?
No, I don't, because I am a liberal person and a girl of the people. I do not put myself in one position.
Aside Nollywood, what do you do?
I sell bread, food and perfume, but the thing is I do a lot of stuff.
Do you have an office where you do all these things?
Yes, I do.
People say a lot of things about you, what would you say to that?
I am tired of defending myself everyday and granting interviews here and there, so I just do my thing.
Does being an actress make you happy?
No. People say being an actress make them happy, I am not one of them, because it is not a bed of roses. There are days you are not in the mood to talk and your fans meet you and think because you are an actress you should be smiling from morning till night, which is not so with me because my mouth would be paining me and I would just be pretending, showing what I am not feeling. So we all have our individual character. I cannot force mine on you, so don't force yours on me.
Who are your friends in the industry?
Everybody is my friend.
How was your childhood?
Growing up was filled with love, but it was not all a bed of roses.
What are the things that did not allow it to be bed of roses?
It was just not a bed of roses.
What about people who don't know?
I am so sure they know what growing up is like. Everybody has a story and I have mine. I have gone through some ups and downs, likewise some people too.
The man in your life, does he mind you being an actress?
Nope, he is my number one fan.
I have heard people say they will stop acting once they get married, would you?
When I get to that bridge, I will cross it.
Have you ever failed in the things you do?
Yes, severally.
Could you share some?
Well, my experience from the past, my relationship with people and with mostly people I have come in contact with in my life.
What do you do after a failure?
Well, I go to my own corner and sit down and ask myself what I did wrong and what I did not do. But I realize that God was just trying to mould me into something different, not a regular kind of girl, and at the end of the day it has made me stronger and I can face tomorrow. I alone knows the pains I went through and the things I have gone through in my life. It was not easy and I'm very grateful to Him.
What's so special about your guy?
We are connected, that's all.
How do you handle guys that see actresses as immoral people?
I am a disciplinarian and I don't indulge in unnecessary and idle talks. And anything I do is for my future. I won't do something that would bring down all I had worked for.
How many siblings do you have?
Five plus me, and that makes us six in my house.
What about your parents?
My dad runs a farm and my mum is into hospitality business and they are moving back to Lokoja.
Why are they moving there?
You know, after a while you just want to be closer to your origin.
What was your dad doing before the farming stuff?
He was a banker. He worked with Savannah Bank for 15 years.
What of your mum?
She was a nurse for more than 11 years.
Did they object to you being an actress?
Of course, because I was really young when I came into Nollywood and they just had to look out for me. But I had to do a lot to prove them wrong.
How old is Halima now?
I am 28 years this month.
Is there a party?
No, just dinner. But before that I would be visiting about three homes and some homeless people on the streets.
What is the most memorable kiss you have had?
Nope, I have not had one yet.
At 28?
That is my private thing and I can't share it.
Have you ever considered being a producer?
Yes, but an executive one that nobody needs to know.
How often do you get called up to locations?
Well, I can only tell you I have been very busy.
Okay, thank you.
Thank you, too.