Gambari Arrives Myanmar To Try Again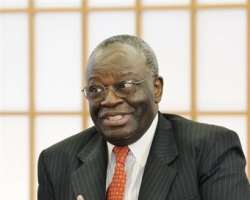 UN special envoy Ibrahim Gambari arrived in military-ruled Myanmar to pave the way for a visit by the world body's secretary-general focused on the trial of democracy leader Aung San Suu Kyi.
During his two-day trip Gambari is set to meet senior figures from the ruling junta but there were no immediate plans to see Nobel laureate Aung San Suu Kyi or members of her political party, Myanmar officials said.
Gambari is to brief UN chief Ban Ki-moon on the outcome of his mission and Ban will then decide whether to go ahead with plans to visit Myanmar early next month, according to UN sources in New York.
The Nigerian diplomat touched down in the main city Yangon on a commercial flight and was immediately driven to his hotel in a UN vehicle without making any comment, witnesses said.
He later set out by road to the junta's administrative capital Naypyidaw for talks with members of the military regime and would return to Yangon on Saturday to meet officials from the foreign ministry, the authorities said.
The UN boss and Gambari have been trying to persuade Myanmar's ruling generals to free all political detainees, including Aung San Suu Kyi, and to steer their country on the path to democracy.
Aung San Suu Kyi, 64, is being held in jail on charges of violating her house arrest after an American man, John Yettaw, swam to her lakeside house earlier this year. She risks up to five years in prison if convicted.
She has spent 13 of the past 19 years in detention since the ruling generals refused to recognise the landslide victory of her National League for Democracy party (NLD) in 1990 elections.
Aung San Suu Kyi's party spokesman and lawyer Nyan Win said she and Yettaw appeared in court at Insein prison for a procedural hearing Friday, adding he did not yet know if Gambari would meet with the detained democracy icon.
"Like his previous visit (in February) he might meet Daw Aung San Suu Kyi but we haven't got any information yet," Nyan Win told AFP.
Gambari was named the top UN envoy for Myanmar in 2006 but his previous visits have produced few results. Aung San Suu Kyi refused to meet him in August 2008, apparently after he failed to secure reform pledges from the regime.
|
Article source