The Sexiest Part Of My Body – Chioma Chukwuka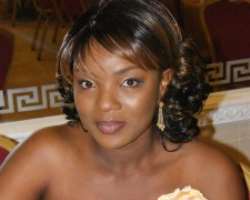 Beautiful actress, Chioma Chukwuka Akpotu is someone who has endeared herself to a lot of people. Not because of her excellent acting skills, but the fact that she has been able to avoid scandals as best as she could. Not a few people were happy for her when she hooked her hubby, Franklin Akpotu and as the saying goes, they have been in living happily thereafter. In these posers thrown to her, she revealed the sexiest part of her body, her new location and many more, enjoy it.
You have been in the movie industry for about a decade now, how have you been coping without scandals?
God has been my power. I have actually been in the industry for nine years.
You have a new Christian album in the market, how is it doing?
It is doing well, it is doing very well.
Describe yourself?
I am a fun loving, easy going person, I am also a disciplinarian.
How is your marriage?
Oh it is fine, thank you.
Has marriage affected your life?
Yes! It has affected my life positively. Marriage is a beautiful relationship in all ramifications. It is something you don't dream about, you need to experience it to know.
How did you meet your husband?
It is the usual romantic story. Boys meet girls, girls meet boys. The first time we saw, he said "ha, I like you".
How romantic are you?
It is a secret, which I keep to myself. I won't reveal if, it I do, it will no longer be romantic.
Which part of your body do you consider the sexiest?
From my head to my toes.
With two kids down the line, do you see yourself as still being sexy?
It depends on what you mean. You may mean one thing then another person will mean another thing.
To your fans?
They should be good. Play safe. Do what you have to do and leave the rest to God.
Categorised as : Entertainment, Interview, Society by News of the People