DAY A FAN'S WIFE ATTACKED ME SAYS "HER HUSBAND IS DYING FOR ME"-----LIZZY ANJORIN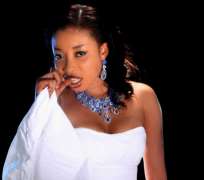 You have two big movies that are yet to be released what is stopping them.
Yes, GOL D and IYAWO ABUKE are two great movies. Gold is a true life experience full of both tragedy and comedy. IYAWO ABUKE is another big project with excellent storyline and good acting delivery from all the actors. GOLD will be out soon and IYAWO ABUKE is still very new. We have launched it in three different venues between last December and now. We are still taking it to Ajase in Benin Republic; a lot of people want to see the movie before it is finally released to the market. We had the first launching in December last year. We had another one on the 1st of January 2011.
You seem to have a special love for the disables by featuring them in your movies
I have been doing that since my first movie, Tolani Gbarada. I did it again in Obi. Also in Gold, I had an imbecile on set. The tradition continues in IYAWO ABUKE. I gave the lead role to a man with hunchback. I love to do this because I believe there is ability in disability. The man was picked on the street where he was selling recharge cards. He did it very well and even impressed the director
What is your favorite brand of car
Honestly, I do not have a favorite brand of car. But, I love fast cars. Presently, I drive a Mitsubishi Outlander Jeep.
Can you recall your most embarrassing moment in the movie industry
I can only recall when a woman fought me openly at a market. She claimed that her husband is falling in love with me. She said my skimpy dresses in movies are killing her husband. She really attacked me, was prepare for a fight. I am a highly temperamental person. Most of my colleagues at the Olabisi Onabanjo University where I graduated know this about me. I was angry and ready for a fight that day. But, I later calm down when people told me it was one of the prices I have to pay for stardom.
How long does it take you to do your make up
I am very good in that. Less than 30minutes, I am done with my makeup. I have a flashy face and anything I put on it comes out glowing. I take my bath twice daily.
What does it take a young girl to survive in Nollywood
This is a very sensitive question Dayo. I always tell young people that, beauty alone does not guarantee success in the Movie Industry. As an actress, if you think beauty is your weapon to hit stardom, you are only joking. There are more beautiful people who have been frustrated out of the industry. The fact is that, they believe that once producer and directors cannot resist them, they will use them in movies from there they hit stardom. But, it does not work that way. These producers and directors still go back to see if you are really talented. If not, after one or two movies they dump you. Whereas, even without sleeping with them, if you give them what they want on set and not on bed, they will continue to use you. I was lucky when I came into the industry; somebody called me and told me that I should do a lot of research aside what they taught me in theater. He said that will make me standout. I did that and today, it is working for me. I prefer to deliver on set than to do it on bed.
How do you cope with the challenges of being a star
Most times, I even forget I am a movie star or a celebrity. When people start staring at me that is when I remember the Lizzy Anjorin that I am to film-lovers. So, at that point I will have to change my steps and walk the way they expect me to walk. As a celebrity, there is a way our fans want us to do things. At times, in my car, if I buy water to drink, I drink it like every other person. But, people still look at me as if I should not drink water. I just laugh; drop the water and wave to them. The other side of stardom is also very ugly. Most especially you guys (Journalists), and your stories with all the scandals.
You are said to be a human-right activist while on campus at OOU. What happen to your spirit of activism.
I am still an activist. Though, the movie industry has really affected me and my relationship with other comrades. But, it (movie industry) has not changed me. Any day, any time, I will still stand up and speak against injustice anywhere. At OOU, I was a senior cadre as an activist. I represent the student's interest and the management knows me
How did you come into the film industry.
I came in through a friend. Her name is She baby. She introduced me to acting. But, they told me I have to learn. So, I started going from my school in Ago Iwoye to Abeokuta every week taking lessons in acting