Woman Cuts Off Rapist's Manhood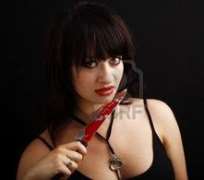 A Bangladesh woman, Monju Begum, said she cut off her neighbor's penis when he forced his way into her shanty and attempted to rape her, the BBC reported .
He said it's all just a lovers' quarrel gone horribly violent.
Begum, a married mother of three, said that Mozammel Haq Mazi had been harassing her for months ? and when he allegedly forced his way into her house, she tried to fight him, cut his penis off and put it in a bag, the BBC reported.
Mazi was admitted to a nearby hospital, while Begum took the severed organ to the police station as evidence.
"She said she fought back and cut off his penis and brought it to police station in a polythene bag to prove that Mr. Mazi tried to rape her," a police spokesman told the BBC.
He said he expected Mazi to be arrested and charged once his condition improved.
Mazi, a father of five, denied the allegations and said the two were having an affair and Begum wanted to run away together.
"I refused and told her that I cannot leave my wife and children, so she took revenge on me," he said.
A surgeon said efforts to reattach the organ were unsuccessful.