MIKEL: IT'S REVENGE MATCH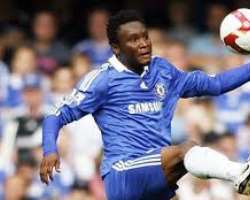 • John Mikel Obi
Chelsea of England's midfielder, John Mikel Obi, has described the Super Eagles international friendly match against Argentina in Abuja as a revenge tie, even as he expressed fears that the season break might hinder his teammates from performing to their capabilities in the game.
The Nigerian international, who was the player to hit the Abuja Transcorp Hilton camp of the team, while describing it as a big match, noted that having lost to the Argentines in the final of the Holland 2005 FIFA World Youth Championship, what would be uppermost in his mind is that the friendly is a revenge.
Lamenting that they are supposed to be holidaying with their families after a hectic season, the Chelsea playmaker noted that they would be glad to make the sacrifice for the image of the country.
'It is a big friendly game but my fear is that it is not going to be an easy game because we are on holiday. We are supposed to be with our families but we have to make the sacrifice for the country. Let us just see what happens. Thank God, it is only a friendly game, the most important game is the one against Ethiopia. Hopefully, we will win that game.
'I lost to Argentina in the finals of the Under-20 and it left a scare on me. I want to possibly get revenge in this game.
I want go into the game with a mindset of victory but it is a friendly game and will help us prepare for the game against Ethiopia.
If there is anything we want to achieve in the game, it will rather make us sharper for the important one against Ethiopia.
Commenting on the absence of Barcelona and World Footballer of the Year, Lionel Messi, Mikel admitted that though he would miss the man he described as a great player, Argentina squad still remains the same.
'Messi is a great player that everybody agrees he is the best player in the world.
It would have been nice to see him among the squad but with or without Messi, Argentina is a great soccer nation.
The country has other good players and I hope we can put up a good show today.