Ministerial Re-Appointments: Diezani Panics, Employs Media Propaganda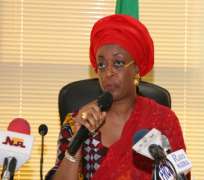 SAN FRANCISCO, May 30, (THEWILL) - President Goodluck Ebele Jonathan has just been sworn- in, checking off stage one in this new administration's to- do list. Before now though, various forms of power- play have been going on behind the scenes to ensure a smooth sail of the GEJ- anchored ship. Remember the retreat at the Obudu Resort in Calabar immediately after the elections and its attendant outcome? The subsequent submission of nominations for the new Federal Executive Council and the underlying drama? At times like this, huge ego battles, betrayals, disappointments and loyalties surface. So far, the nation is focused on ministerial appointments and re- appointments; if any.
This piece will seek to explore a portion of the action surrounding this, including the actors (alleged and confirmed). We all love a good play; one with interesting plots, well- rounded characters and brilliant dialogue. The stage has been set for a while and the drama we refer to as Mrs. Diezani Allison- Madueke and Her Panic Button, is on-going.
This Minister for Petroleum Resources was appointed in 2010 and therefore believes that her good work of transformation is not complete, hence she wants, rather "needs" to be re- appointed. But all odds are against her; be they real or imagined. Diezani's position has been threatened to the extent that she has employed the use of the Fourth Estate - the media, to do her mop- up job. Some call it public relations (PR).
According to the Minister's spokesman, Mr. Levi Ajunoma and her good self, Minister Diezani is a victim of "a cabal" that is working against her re- appointment; based on so- called untruths and fabrications to malign her person. Major newspaper houses in Nigeria, including online news outlets got copies of her "cry for help." Close associates of the Minister say she is a strong- willed and arrogant woman, not easily fazed by events around her. So, according to them, for her to act in this manner; resorting to using the media to change President Jonathan's mind or resell herself, things must have started closing in on her. She must believe that the whole conspiracy to undo her is real and strong.
Facts that seem to be against Diezani's re- appointment as Minister stem from lots of hard-hitting facts. She was among the few frontline members of the Federal Executive Council that was not featured among the ten persons per state- nominated by the ruling People's Democratic Party (PDP) state chapters for appointment as Ministers and other high offices. That ten-member list from her native Bayelsa State did not include Diezani Allison-Madueke. For your home state to reject you in that capacity, where is the love there?
Then, there is the bribery allegation that has plagued her for about one year, including the most recent one. Early in April 2011, various news reports maintain she was involved in a N2.2billion bribery scandal, which threatened to distract President Jonathan during the campaigns. The money was reportedly used as back- channel payments to support the GEJ election campaign and a part of it was allegedly kept by the Minister. Where it came from? An investigative report by 234next said: "In exchange for obtaining the authorization to import gasoline, oil marketers were being instructed by an agency, the Petroleum Products Pricing Regulatory Agency (PPPRA), in the petroleum industry under Diezani's direct supervision, to call a mobile telephone number and pay a bribe of $8 per metric tonne of petroleum allocated to them."
Considering the amount of metric tonnes involved for allocation in the April-June quarter by Minister Diezani; about 1.8million tonnes, the 36-member gang of oil marketers must have coughed out between $400, 000 to $1.4million, depending on how much each of the companies were allocated. At the end of the day, a whooping $14.4million was paid to the courier, a certain Alhaji Rufai, who was traced to a small office at 17 Constantine Street, Wuse Zone 4, Abuja, where a sting deal operation was recorded and videoed.
A General Manager of Operations at the PPPRA's Abuja office, Mr. Gbenga Komolafe was Diezani's Mr. Fix it in the kick-back scandal.
Two oil marketing CEOs, who opted to remain anonymous admitted to THEWILL publisher, Prince Austyn Ogannah, that they paid the bribe and wondered why no heads have rolled since the shakedown was exposed.
Diezani, however, denied the allegation, citing due process and transparency as her witnesses. According to her, no arrangement of such existed between her and the oil marketers. This scandal allegedly did not sit well with President Jonathan, hence her non re- appointment scare. No one takes GEJ for granted and goes unscathed, the theory seems to be saying.
On the heels of this scandal is also her various battles with the top CEOs of Nigerian oil companies and also of multi- nationals. Their business interests seem to have been threatened in her short stay as the Minister for Petroleum Resources. They too are kicking against her being re- appointed, fearing their interests will not be properly represented. Her woes seem to be compounding, no wonder she sought the help of the media.
Then, there is the huge elephant in the room. Intel from the Aso villa have claimed that based on the insistence of the First Lady, Dame Patience Jonathan, Mrs. Allison- Madueke will not, for a certainty be re- appointed as Minister of Petroleum, infact, Minister for anything. The reason? The First Lady, allegedly is hurt at the alleged sexual relationship between her husband, the President and Diezani. Confirmations, we do not have but a top security source confirmed that Mrs. Madueke has been banned from coming to the private residences of the Jonathans to see him on any matter, and is restricted only to the offices of the President. This, according to multiple sources, is an attempt by the Dame to register her displeasure at the alleged relationship and in the process grind it to a halt. And typical of Diezani, she is allegedly, not fazed by the restrictions. Therefore, battle with the First Lady has pitched her against the President, hence her fear of not being re- appointed Minister.
Also, confirmed reports from close associates of the first family say Patience has told President Jonathan that she would run a 'mini government' of her own if he reappoints Diezani as Petroleum Minister or Minister at all. She gave the President the option of posting her abroad as an Ambassador if he must give her a job.
The curtain has yet not closed on this drama. We are yet to see what roles personal, business or family interests would play in Minister Allison- Madueke's re- appointment or not. In one week or so, our concerns shall all be laid to rest regarding this matter, but in the interim, Minister Diezani will continue her gospel of return as Minister of Petroleum Resources using 'transparency' and 'reform' via the power and reach of the media.
Editor's Note: *** This piece was approved for publication a few hours before President Goodluck Jonathan ordered the dissolution of the Federal Executive Council.