Wife Battering: FG Recalls High Commissioner To Kenya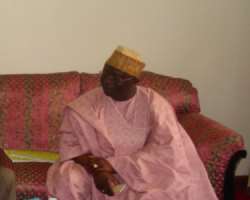 Nigeria's High Commissioner to Kenya who doubles as Ambassador to the Seychelles, Dr Chijioke Wigwe, has been recalled by the Federal Government.
He was recalled by the foreign ministry as it perfects plan for the envoy's investigation for allegedly assaulting his wife, Tess Iyi.
Foreign ministry spokesman, Mr. Damian Agu, said the outgoing Minister of Foreign Affairs, Mr. Odein Ajumogobia (SAN), has asked the top diplomat, who also represents Nigeria at the United Nations Environmental Programme and the UN Habitat in Nairobi, to return home.
"It is only when he is back that we can investigate him and know if the allegations were true or false," Agu told THISDAY on telephone Monday.
On May 11, Wigwe's wife, Tess Iyi, alleged that she was assaulted and injured by the diplomat and Kenyan police was said to have written to the Federal Government seeking waiver of diplomatic immunity for the ambassador to face trial in the country.
Images of Mrs. Wigwe's battered face were displayed on Kenyan newspapers and circulated on the internet eliciting reactions from women organisations in the East African country, who asked for the envoy's prosecution.
Mrs. Wigwe, a lawyer who holds dual British and Nigerian citizenships, had also made a written supplication to the Kenyan police asking that her husband be arrested for assaulting her, causing her serious bodily harm.
She explained that she decided to come out about her situation to show that domestic violence cuts across cultures, education and social standing.
"I cannot keep quiet. I have kept quiet long enough," Mrs. Wigwe said.
She also told the Nairobi Star she was rescued by her 20-year-old son and 23-year-old daughter on May 11, and rushed her, bleeding profusely, to the hospital.
She was admitted to the Aga Khan Hospital, Nairobi, where she was operated on and discharged on Sunday, May 15. She also said her doctors had advised her to be careful as the injuries to her lower back might lead to paralysis.
Meanwhile, the Women Empowerment and Lagal Aid (WELA) has called on the Federal Government to immediately arrest and prosecute the embattled ambassador for allegedly beating his wife " mercilessly causing injury on the woman."
Thisday.