IT TOOK ME YEARS TO BUILD THIS NAME;I DID NOT DO ANY COLLAB WITH DBANJ.TOPE ALABI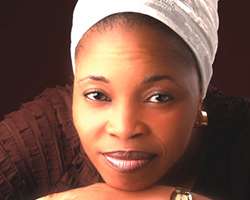 Lately, we've seen many gospel artistes working with secular artistes which in some cases don't display love or knowledge of Christ in their music.
Some weeks back, news broke out that gospel Singer Tope Alabi is planning to collaborate with Dbanj.But in a recent interview with Tribune journal; she debunked the insinuation about her collaboration with Dbanj in an album. She said and I quote
I sings undiluted gospel music and "this inform the acceptance of my albums by everybody in the society, both home and abroad"
"This is not true and I want to assure my fans that I still remain focused in my music career. It took me years to build this name and I don't pray to derail from this calling. I did not do any collabo with any singer in another genre of music. My music is basically gospel and I'll remain a gospeller," she said.
And that brings me back to the main issue. Is it a fair game or foul play for gospel artistes to collaborate with secular artistes?