I'll Go Nude For The Right Price -Gloria Doyle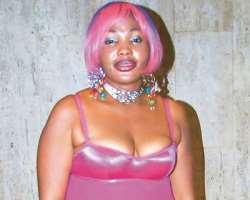 Gloria Doyle is neither hot nor cold. First, she came out preaching God with her very spiritual album Folakemi, while donning sleazy dresses that reveal a lot.
She has since dumped the gospel with her Party Time album with tracks like, 'I Want to Swing,' 'Roll Over,' among others. The songs may sound worldly but she says they give hope.
Speaking about her single 'Ashimalowo,' which is making waves on air, she said the song can be played in church and in clubs too!
"I particularly believe that I'm into inspirational songs and they could come in any form. 'Ashimalowo' a track in Party Time is very inspirational and it is a song that can be played in the church or in the club or anywhere. I know it is a song that people have listened to and it has given them hope. That is the kind of song I play, like in my first album, Folakemi, where I was praying that God should bless me with wealth. A lot of people like the song because it is a song of prayer and supplication that anybody can sing," she said.
Explaining her complete swing from gospel to the secular she said:
"You know the mistake I made was not to really define my music. I came out with an inspirational album titled Folakemi. If you look at the title it's inspirational and because of the lyrics, the words and the spiritual intimacy of the song, a lot of people thought it was gospel but it was not really gospel. That was why when I was presenting the song in 2005, I was able to do the things I wanted to do and people saw that as controversial but I had to tell them that the way I dress, what I do, where I go had nothing to do with my songs. But I cannot tell anybody that I'm an ordained pastor even if by the grace of God I might be tomorrow. For now, I'm just a very spiritually conscious person that is into show business."
In other words her songs are not gospel.
"So because my songs give hope people term it to be gospel. If you compare my songs with that of Sammy Okposo, Tope Alabi, Chioma Jesus, and all these Igbo gospel singers, then you will know that mine is not really gospel," she said.
Still on Gloria's duality, this might be attributed to her parent's different spiritual views; "My mother is the pastor and founder of Christ Aflame Ministry in Ilupeju, my dad is a retired controller of prison. He has a different believe when it comes to religion. He is a chief and an Eckankar believer."
One thing that could be attributed to Gloria turning heads is of course her sexy, colourful and revealing dresses that often leave a lasting impression. She is lucky though to have an almost flawless skin (except for few scratches at the back) but this skin could have suffered more scratches and patches if not for divine intervention. Many might not know it but on Tuesday last week, Gloria Doyle had an accident that almost threatened her life but she managed to escape unhurt.
Speaking on the experience she said: "My manager was driving while I was doing some documentation at the back. We were going towards Oregun Road, in Lagos and as he was trying to make a U-turn, he saw a car coming at top speed and because he did not see it early enough, he made a swift turn and we ran into the culvert. The car was severely damaged but nothing happened to us."
If something had happened to Gloria's 'assets' that would have meant the end of her dreams of using them to make real money. Hear her: "I have a beautiful face, sexy body, good backside; I think I'm okay as a lady. Very soon I will be going into the movies and this time I will be very daring. As daring as if you pay me $20 million, I can do anything you want me to do."
Like stripping naked?
"As long as I've got this body, yes I will. In the past I have done quite a couple of movies and I'm coming back into movies. This time people will see me more daring."
Isn't she too money conscious?
"I'm very money conscious because money makes the world go round, money talks. So, if you say you want to see everything, I will tell you how much you have to pay."
Speaking on her acting aspiration she explained that she is not really leaving music.
"No, I can't really leave music for acting because I think I can express myself better through music. When it comes to acting, it is people telling me to say what they want me to say not what I really want. I believe in a production where people can really express themselves so when I get the chance of producing my own movies I will act."
Gloria's reason for her near nude dressing is this: "I'm into show business so I keep it that way because if you are not daring, you cannot make a statement in show business. I have been able to dress the way I dress but I think I know where to draw a line.
"I think I know more of the Bible, I'm spiritually conscious, I'm spirit filled, I'm born again, I speak in tongues but that does not make me any less than a showbiz person. I don't think any one has ever caught me naked anywhere but I think I'm a very sexy person."
Klieglights observed that the singer is growing dreadlocks. Does this mean that she will stop putting on the colourful wigs and hairdo?
"The wig is my ID. I like colours, I like standing out; when I come into a show I don't like seeing another person putting on my kind of costume so I take time to put my costume together."
Aside her dressing, another controversy about Gloria is her breast war with actress, Cossy Orjiakor. Speaking on this she said:
"There is no way I would compare my breasts to Cossy's unless I'm mad and I don't think I am. Even a blind man knows that Cossy's are five times bigger than mine. What happened is that someone (a reporter) asked me if I was trying to come out in Cossy's line and I said no I don't dream of doing anything she is doing. I'm Gloria Doyle and I will do my stuff, but maybe the reporter got a different interpretation of the whole thing."
Explaining more about her two albums she said, "my first album is Folakemi and my second is Party Time. I had a single in between titled 'Rock With Me.'
Few months back she launched Party Time yet it is not in the market. Her reasons for this is: "I did a promo launch; I introduced the song to most of my friends especially in the media but we have not done the official launch. For now 'Ashimalowo' is on air and that is what I'm concentrating on."
She seems to be handling all the controversies about her well.
"As long as you are alive people must talk about you especially if you have something to offer so every publicity is good publicity as far as I'm concerned."
For the real Gloria Doyle: "I'm a very stubborn person. I'm heady but I'm also a very nice person. I think a lot of people I have come across say I'm very encouraging and when I talk to people they tell me to go start a church. I think I'm easygoing but nobody stands between what I want and myself. Sometimes you have people trying to talk you out of what you want but I will always stand my grounds."
She delved into music because she discovered she had "passion for singing, right from my primary school. I have been singing. I think God blessed me with songwriting and singing skills. I have been singing all the way."
Unlike many who started their music career while singing in church, Gloria said hers was a different story.
"I did not begin in church like some people. The only time I ever sang in church was when I was in the Zoe Ministry but now I attend Household of God Church. Besides, I don't want to be restricted to any type of song, I want a situation where I can express myself very well. That is why I have not joined any choir."
On Chris Okotie of Household: "The truth is that I have been able to sit down under the tutelage of many men of God and one thing I have been able to get from Chris Okotie is the fact about the word of God. No matter how controversial he seems to be, he dishes out the truth about the word."
Aside Chris Okotie, her other idols are D'banj and Ini Edo.
"I love D'banj because I think he is crazy, I also love Ini Edo, I love crazy people."
Talking about her kind of man she said: "He should not be someone in the industry. I'm this crazy person so I don't think I will like a crazy person. I have a guy and he is very quite. He is not in the industry."
One thing though, Gloria did not betray any sign she had been drinking before she spoke to us.