NIGERIA HAS NEVER HAD IT SO GOOD IN PETROLEUM SECTOR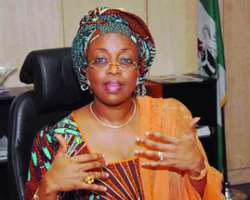 In this interview, she spoke on her activities in petroleum ministry, using the opportunity to clear air on the rumours surrounding her ministry. She also unveiled sketches of her roadmap to the much-anticipated gas revolution and diversification moves within the oil and gas sector.
Recently, there was allegation of fraud against you by a section of the media. What happened?
I think it is very unfortunate that at certain times in the cycles of leadership and governance, this spate of allegations always seem to rear their ugly heads, to the extent that even allegations of bribery have been thrown at my person. I must say that all the respected newspapers and news stations have not sunk to such abysmal levels, but there are the isolated few that are obviously poorly run and ill-advised. In the case of the bribery allegation recently thrown at me, the offices of the Attorney General of the Federation and Inspector General of Police have investigated the matter. I am told that some of the suspects have provided useful information to the police, which exonerate me and show that I had absolutely nothing to do with the scandal. Like I told the Attorney General of the federation, if you accuse a minister of bribery in order to approve papers, it is a criminal offence and it should, therefore, be investigated alongside the Criminal Code. But beyond that, I have every intention of moving forward with a libel suit against the offensive publication and those who proffered this defamation of character against my person. I must make it clear that not because one sits in public office and works hard doing things and projects that are actually to the benefit of the entire country should one be taken as a sitting duck by opportunists. I will ensure that legal means are used to bring this sort of defamatory accusations to an end. I definitely don't need to be insulted over and over again and accused falsely of bribery and other allegations by funny individuals. This cannot be allowed to continue.
What gives you confidence that the new four-year term for Jonathan's presidency would change things for the better for the ordinary Nigerian?
I think it goes without saying that President Goodluck Ebele Jonathan is a man of the people, chosen by the people, for the people. If it wasn't clear before, it is now clear to us, in the aftermath of the elections that he has the people's mandate and that is probably because his pragmatism, sincerity and humility have touched the hearts of millions of Nigerians. What, perhaps, Nigerians may not have seen, but which they would certainly see over the next four years, is the fact that, as a leader, he is extremely focused and aggressive in supporting those areas he believes will yield optimal benefits to all Nigerians. In the short time he has been president, he has given passionate support to a broad range of major reforms across the economy.
What is the nature of the technical agreements your ministry entered into with some foreign companies in Saudi Arabia and India?
Over the last seven months, we have been in serious discussions and negotiations with the major world entities, such as Xenel of Saudi Arabia (renowned for petrochemical plants) and Nagarjuna of India (renowned for building and running fertiliser plants) and we were able to sign binding agreements with them, which is quite unusual, because most agreements of this nature are non-binding. So it is a plus that both of these world class companies entered into binding agreements with the Federal Government, represented, of course, by the NNPC. We have taken these agreements a step further, because at this time of building our economy, in terms of gas industrialisation, we need to create a many-fingered, strategic framework that would ensure that the sort of investments brought into Nigeria over the next few years would not only bring us revenues but would also bring us transfers of knowledge and capacity building as well as create jobs for Nigerians, particularly for our teeming youth. So we agreed on the building of a world scale petrochemical plant that would produce over 1.43 million tonnes per annum of polypropylene and 400, 000 tonnes per annum of polyethylene. It will be the largest in sub-Saharan Africa and the effects of that, within the sub-region alone, are immense. It will make us the regional hub for petrochemicals once it is up and running, and the mobilisation for that will start any moment from now.
For years, many have queried why Nigeria keeps importing fertilizers, before the ban. Is the solution in sight now?
Yes, we have put together two world scale fertiliser plants, because Nigeria should start to produce fertilisers on an international scale. Each of these plants would be producing 1.43 million tonnes of fertiliser per annum, which, again, is no mean amount. We considered also that the country has varied terrain. The north-east terrain is totally different from the south-south or the south-west. After long negotiations, we also agreed that five fertilizer blending farms would also be built simultaneously in various zones that would take the fertiliser produced and blend it to the exact specificity for the soil in each region. You can only imagine the benefits and value this would add to the agro-allied industry. Then we looked at methanol plants, central processing facilities, which will take our wet gas, harness it, strip and process it to produce lean gas that we would then utilise not only in these industrial entities but more importantly for the power supply needs of the nation. We looked at the LPG distribution plant, etc. In totality, we have actually ensured that over the next three or four years, our gas sector will become one of the most dynamic sectors in terms of what it will do for the GDP of this country, going forward. So we have gone over the entire tranche of what we need to re-oil and recreate the dynamics of the oil and gas sector.
Despite your current achievements, some critics have said that you did little while in office. How do you react to this?
Everything I have done in the various positions I have held was intended to bring the full benefits of each sector to all Nigerians. It is not always noticeable at first, especially given my short stay in certain ministries. So before one could come into full implementation of the different policies one has re-worked or is re-working, you are removed from the seat. That said, in the days of the Ministry of Transportation, the presidential mandate given to me was 'no new road project whatsoever' because of the vast debt that was hanging over the then Ministry of Works. I was asked to rewrite, recreate and clean out the entire schedule of works in terms of road projects. We did so and even went far beyond that. There were only two or three road projects that I was able to bring to the fore, especially the Third Mainland Bridge in Lagos, which was near collapse. I managed to push that through and got it done. But I feel satisfied that we successfully reworked and streamlined policies affecting the ministry. People can't see successful policy issues affecting them daily until full implementation is carried out. Unfortunately, just before we could implement, I was moved to Mines and Steel and left policy issues and implementation to the team that took over. On the balance, we actually did quite a lot of work in Transportation.
What was it that you did different in mines and steel ministry that some have applauded?
I inherited a lot of problems there. The ministry was almost non-existent. But in the time we were there, we were able to attract the world's attention to the vast array of minerals that Nigeria is blessed with. In fact, we were so creative in the way we went about it that some international entities, like the largest bank in the world (from China) reached out to sponsor our conference showcase and investment discussions around the world with the high level investors within those entities. We got the ministry to bubble and ensured that the world took investment notice of our mines and steel opportunities, which we must continue to see as critical, if, as a country, we are serious about the diversification of our economy. There are many countries whose entire economies depend solely on mines and steel and they are doing very well.
Now you are in charge of the oil and gas sector. What did you do right?
Everyone around the world and here at home already testify to the fact that in much less than 11 eleven months, we have been able to move the Ministry of Petroleum Resources forward in a completely different manner. We took the basic structure that has been there all these years and we have already taken it to a whole new level in a very creative manner as well. We are fast moving into a revolution of the gas sector; looking at exploration, sustainability of gas supply and revenues, of payments and pricing regimes, etc to ensure that we supply Nigeria with domestic gas (in adequate quantities) over the years to come.
The structures we have put in place will ensure that in three years, Nigeria will be producing, rather than importing products in the oil and gas sectors. Again, we are already seeking ways to diversify our hydrocarbon reserves by making measured in-roads into seismic data gathering and acquisition in the inland sedementary basins of our country. All in all, I think that in every ministry I have been in, whether it was clear to Nigerians or not, my staff and myself did put in a lot of work to move our economy forward. The fact that we have been able to ensure the stability of petrol supply across the nation and put a stop to endless queues is a testament to the amount of hard work that we have put in, which thankfully, every Nigerian is happy about, as it affects them daily. We have ensured that we do not go back to the years of fuel scarcity, which instantly skyrockets transportation and food costs, etc. Even as I speak, we are working hard to control the price and availability of kerosene in order to reduce the hardships that people suffer in that regard.
Being Nigeria's first female minister of petroleum resources, how would you assess yourself and other female ministers?
I would like anyone to place our achievements since the administration came into office side by side with achievements of our immediate predecessors and tell us if Nigerians have fared this well before now. Our efforts and the substantial results in such a short time should not be taken lightly. Regarding women in the cabinet, I think that on the whole, women have held their own very well, particularly in aviation, finance, etc and I believe women will be given unique opportunities to hold their own even further come the next cabinet.