SETTING AGENDA FOR PRESIDENT JONATHAN: DOUBTLESSLY DEMOCRATIC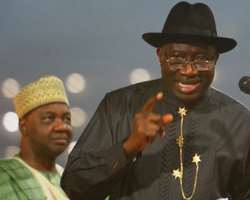 IF we savour the little blessings, we may find the patience to await the bigger ones. Our democracy challenges our patience and perspectives. Are we in a democracy? Some still ask that question 12 years into civil rule - as others would prefer in references to the civilian annexation of Nigerian politics. Few will find any significance in the fact that at 12 years of uninterrupted civil rule, Nigerians born after May 29, 1999 have enjoyed 12 years of civil rule, the longest stretch of sustained democracy since independence in 1960.
Perspectives help with more appreciation of what can be tagged an achievement. The country spent 28 years under the military, 13 of them were at a stretch, commencing six years after independence. Another military intervention abrogated four years of civil rule. It took another 15 years before the 1999 return to constitutionality. General Abdulsalami Abubakar's drastic execution of an 11-month transition that resulted in May 29 terminal date for military rule, drew generous criticisms from politicians. They thought it was too hasty and predictions that the military would soon return were rife.
Two high profile deaths - General Sani Abacha and Chief Moshood Kasimawo Olawale Abiola in June and July 1998 - occurred. They were possibly the closing losses in the civilian resistance that dragged for more than a decade, a good part of which was spent protesting the incarceration of Abiola. Cynicism persists. Dividends of democracy, a nebulous expression politicians intentionally use, have not arrived though at each election - four in the past 12 years - promises of delivering the dividends of democracy have been the standard campaign item.
Will building of infrastructure, regular payment of workers' salaries in some States and the granting of car loans to such workers pass for dividends of democracy, supposedly the reason for the billions of naira we invest in civil rule?
Soldiers built roads and more things that civilians do not contemplate. Were those dividends of democracy? The democratic nature of civil rule is supposed to make the difference. It is sad that the difference is hardly noticeable. Civilian politicians abhor democracy. Some of them have carried on unfettered in the manner of the military. They have no regard for justice or the Constitution, the base for the offices they hold.
Efforts at minimising the democratic content of governance are on the rise. They are on the increase during elections, but they never really go away. Many criticise the Constitution that the military cobbled for the malaise in civil rule. In 12 years, amendments to the Constitution have been essentially self-serving. No amendments were made to the sections that cast unflinching federal hold on almost any enterprise that can develop the country. Some of the sections are contrary to the spirit with which great nations are built.
Elections are the biggest business for politicians.
The exclusion of people from power starts from party primaries which are often skewed for favoured candidates. Democracy has exposed the worst of our politicians - thuggery, assassinations, kidnaps and the deployment of the youth to roles that compromise their future. Winning elections, at every cost, is an abiding endeavour. One constitutional amendment that is salutary is the one limiting final verdict on electoral cases to six months.
*Jonathan and Sambo
Benefits of democracy
A search of the courts can still produce cases from the 1999 elections. Nigerians are unconvinced about the benefits of democracy when it results in mass suffering, loss of jobs and worse versions of the poor governance. The wasteful lifestyle of politicians is too glaring for the people not to notice, particularly in the midst of abject poverty. Official statistics state that 90 million Nigerians (population 150 million) are poor, and this constitutes about one-third of the poor people in Africa!
Too many promises have been made. Too much has been invested in convincing people about the benefits of democratic rule. Are 12 years too soon for the benefits to be obvious? Is it not disturbing that in 12 years, the Freedom of Information Bill, FoIB, is still awaiting passage? Our civil rule mocks democracy. Without freedom of speech, the right to information, especially about how we are governed, right to life, the right to freely elect our leaders, and access to justice, where then is democracy?
We once had a growing democracy. Now we have a gloating democracy where the operators trumpet their successes, including things as elementary as organising elections. Yet before us, lives are taken wantonly, people perish in prisons awaiting trials, we fight corruption with slogans and we slipping in relevant human development indices.
May 29 is a reminder of the struggles that got us this far. It is a good opportunity to ponder our increasing undemocratic tendencies. Twelve years after we gleefully started swearing to run constitutional administrations, we are offering democracy in doubtful doses.
Read more on setting agenda for President Jonathan, click : What Jonathan must focus on to move the economy forward