Majek Fashek: Back home for good?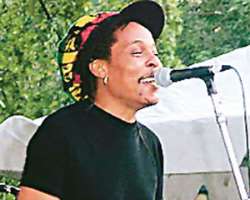 Embattled reggae genius Majek Fashek is in the country. Okay, so you know already. But, did you know that the gifted music-maker will be in town till next year?
He arrived the country on September 27, aboard KLM; and, in what appears to be his longest stay here since relocating to the US nearly a decade ago, Majek is staying put in Nigeria, shuttling between Benin, in Edo State, and Lagos as his managers put finishing touches to an upcoming eight-city tour that'll precede the release of his new album.
''He'll be here for three months,'' Charles Novia, CEO of November records told e- Punch on Wednesday.
"His new management EJ&Associates is putting a multi-city tour together, after which we will release his new album. The album will either be titled Water nor get enemy or Suffer not little children''.
Majek's last trip to the country was a disaster – he arrived the country in 2006 looking drunk, worn and aged; and he later gave a woeful performance at the debut edition of the THISDAY music festival. Although when he spoke to journalists later, it appeared he still had a sound mind, and he often waxed philosophical, many were scared on his behalf. He confessed he was addicted to booze, and that the psychological trauma of losing his mom was too much for him to bear.
Now, Majek is back, determined to re-work his way into the good books of Nigerians; determined to give his once successful career one more shot. And, thankfully, he still has loyal enthusiast, Novia beside him.
"He's even-tually going to come back here. He's still testing the ground. If the tour works out and we release the album, he's considering coming here to do a Pangolo night at least once every month,'' Novia, who's working on a Majek biographical Film told e-Punch.
Presently, the musician is believed to be staying in Abacha Estate, in Ikoyi, where he's working with his managers and select promoters to make the tour a success.