UBA Celebrates Africa Day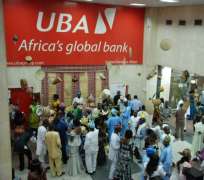 Lagos; May 25, 2011: In demonstration of its avowed Africaness, as enshrined in its business strategy, pan African banking group, United Bank for Africa (UBA) Plc, Thursday joined the rest of the continent in rolling out drums in commemoration of the "Africa Day", a day set aside by the African Union to reflect on the continent's development strides, challenges and aspiration.
In line with this year's Africa Day general theme "Africa and the diaspora", UBA Group chose the theme 'Faces of Africa', a reflection of the diversity of the bank.
To this end, all UBA operating companies across the 18 African countries and around the world celebrated this great day of Africa as staff adorned traditional African dresses, while corporate business offices wore traditional decorations.
In a brief ceremony at the UBA Group Corporate Head office in Lagos Nigeria, Executive Director, Resources, UBA Plc, Mr. Kennedy Uzoka remarked that in spite of challenges facing the continent, Africa Day is worth celebrating as the future of the world is African. "This is more so with the formation of the global focus on Africa as the "next frontier," said Uzoka.
He said that in line with UBA's development initiative around the world and Africa, the bank has always deemed it appropriate to observe the Africa day. "The Africa day is being celebrated in all UBA offices across the nations and international offices worldwide as the Bank believes in showcasing the rich culture of Africa" he enthused.
United Bank for Africa Plc is one of Africa's leading financial institutions offering universal banking to more than 7 million customer accounts across Africa and key financial centers. It currently operates in 18 African countries with presence in New York, London and Paris thus being able to effectively arbitrage Africa and African related businesses globally.