POLICE TAKE OVER GLASS HOUSE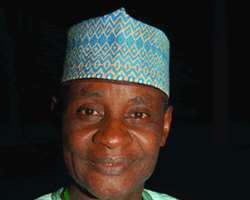 Obviously rattled by numerous threatening text messages and verbal warning allegedly received from the board members of the Nigeria Football Association (NFA) parallel body, more than 10 police men stormed the secretariat of the Nigeria Football Federation (NFF), Glass House, on Monday to forestall any breach of security between the warring parties.
The armed policemen led by an inspector, Mr. Sunday Etuanu, had arrived the headquarters of the embattled Nigerian football governing body very early Monday morning, took positions about the Glass House and waited throughout the office hours for the arrival of the members of the parallel body who did not come.
One of the security men, who spoke with Daily Sunsports on condition of anonymity, said that they were under the directives of the head office to restore peace, warning that they were there to arrest only members of the parallel body that might breach security.
Also speaking with our correspondent on telephone in Abuja, the chairman of security committee of the NFF, Johnson Effiong, said that he made the arrangements to deplore police to the Glass House to ensure that members of the parallel body did not harm any staffer of the federation.
While arguing that they have no option than to deploy the security agents at the Glass House, Effiong disclosed that some members of the federation, including the acting secretary general had since last week got several threat messages from the parallel body of their plan to formally resume yesterday (Monday).
Asked why they flooded the secretariat with policemen, the security committee boss said: 'We want to secure the lives of our staff. We cannot not just dismiss the threatening text messages we received from them as empty ones.
'Before leaving Abuja over the weekend, we had gone to the police and other security agents to report about the text messages and also make arrangements on how they can come to secure lives and property at the Glass House. We don't want anybody including visitors to be injured should they make good their threat,' he said.
On whether the police will continue to guard the secretariat, Effiong said: 'Well, it is difficult to say for now. We will watch developments and decide if we step down the security or intensify it. Our major concern as I said earlier is to secure the lives of our staff.' Meanwhile, the Jarrett Tenebe-led NFA board has resolved to suspend their resumption at the Glass House till the end of the inauguration of President Goodluck Jonathan, following what it described as special appeal from the State Security Services (SSS).