ERA OF GODFATHERS GONE, SAYS EDO ACN CHIEFTAIN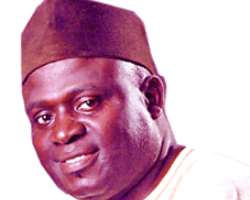 2011 polls
We should thank President Goodluck Ebele Jonathan for being able to give the country, a free and fair election, without interference. He has the absolute authority within his jurisdiction to dictate or to give an order to the Military, Police or all the law enforcement agents. But he allowed the INEC chairman to do what he could to deliver what we can call today a free and fair election.
Also, I must thank Nigerians who came out to make sure that the election was successful. So, on that note, I am satisfied with what I saw. People are saying that there are hiccups here and there; well there is no perfection in humanity. Even America, they had their ups and down in electioneering a few years ago. So, Nigeria is not different. But as for the last election, I give the Federal Government kudos.
The era of godfatherism is gone. I was a member of the PDP, before I joined ACN. As a matter of fact, I was the chairman of the PDP National Convention in 2005- myself and the honourable Minister of Environment, John Odey conducted that convention. But I tell you that the people that have been at the corridor of power who want to impose people, because they believe they are the Alpha and Omega, they do not even believe that there is God. They believe they are the gods of this nation. People like Obasanjo, not that I hate him.
The 2007 election, those who didn't win were declared winners. So, today, my greatest joy is that Jonathan has proved that Nigerians are the ones in charge. They say democracy is government of the people, by the people, and for the people, but before it was democracy of Obasanjo, by Obasanjo and for Obasanjo. I think it is now clear to the whole country that the future will be better than yesterday. We now have a new slate, new idea, new vision.
Edo people and ACN
To tell you the truth, even a blind man can see. Even a deaf can hear that things are happening. Look at everywhere. In the history of this state, I can attest to it that a man was sent by God to come and rescue us from the hand of the enemy. That is the comrade governor, Adams Oshiomhole. I am not a sycophant. What we are experiencing in Edo State today is because of somebody who wants to make an impact, and make a change.
Today Edo State is changing. We use to call Benin, ancient city; we don't call it so any more. It is now a modern city. Edo State has been turned around. Total turn around. Edo State is now working, construction sites everywhere. He has changed everything. Look at the road, the schools, the infrastructural development. If we don't say thank you, even God Himself will be very upset with us, that we don't like good things. So, the man is working. I believe the people will not let him down. The people are always clamouring for Oshiomhole.
Showmanship
That is nothing but blackmail. I think that people just want to blackmail the comrade governor. They don't mean well. If the past administrations have been able to do something, even some of the areas you are talking about, they would have given the Comrade a helping hand. He came in, tried to redefine and rebuild the whole state. Everything in this life is step by step. So, with what he has done so far within two years, what do you think the next four years will be like? You want him to build every road. That is impossible with the kind of money we are receiving in Edo State.
Look, in this state; they used to say no money. But he is managing the resources available to him to do all that he is doing. So, anybody that is saying that Comrade is not doing road in his area, that is nothing but blackmail. Just give him time. At the end of the day, time will tell. At the end of the day, this man will make Edo people proud by being able to reach every street and road in each community in this state. So far, so good. Those who are saying he has not reached them, be patient. He will definitely get there.
Let me tell you, it all boils down to leadership. That is all I have been praying to God to bring good leaders. Let me answer your question by telling you that comrade is a man who believes that when you want to give a job, you don't give the job without monitoring. So, he has been laying a good foundation to guide these people, to whip them into line to do what is right.
Yes. Sometimes you might see some people who do not perform well. If you are a good teacher, when some of your students begin to perform well, maybe the former teacher of the class did not teach the class well.
Those you are talking about, today they are also contributing immensely. They may have come from PDP, it doesn't mean because they are from PDP. They were the problem of PDP. The problem of PDP, you know it, if you do not want to mention it.
Driving force
Having lived in America for 25 years, I have seen that everything in this life you have to work for it. Nothing comes by luck. I have seen it all. My way of giving back is to bring my friends who are in government in America and business men and woman in America, I am not trying to brag, I know a number of people who can help me to develop my local government in terms of infrastructure.
As I am talking to you, in my local government, there is no single health system there. None. You do a borehole of N1.2million, you use N3m to commission it, is that something we should be happy about. Go to the schools, roofs gone, teachers, principals are now sitting under mango trees. Is that what we are talking about? The youths are not being employed.
I am not going to depend on federal allocation; it will not do us any good. But I want to be able to garner all the people who can help me to redeem my people from poverty.
Talking about farmers, we have grants for farmers to enable them do well. Market women, we will be able to give them soft loan to enable them build their businesses. We talk about the artisans-mechanic, carpenter, how we can help them. My role is how to partner with the people to deliver the dividends of democracy. When you talk about dividends of democracy, it is the infrastructure that we can see.