Motherhood has taught me to see life through a child's eye – Imelda Iyayi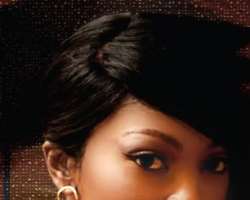 Imelda Iyayi Imelda Iyayi is the wife of Roland Iyayi, the former Chief Executive Offi cer of the Nigerian Airspace Management Agency (NAMA). She is the Creative Director of Cinnamon Events Management Company, a one-stop shop company that caters for all things related to event management. She is also the pioneer of front lace wig in Nigeria. In this interview with Funmi Salome Johnson, she spoke about her new passion Cinnamon, an event company she just launched, her childhood and her marriage, among other issues.
Recently, you formally launched an event management outfit, what prompted you into event management because you were known with the front lace wig business?
I was actually one of the pioneers of the front lace wig business in Nigeria. I stumbled into that business out of an experience I had in the UK when I was pregnant with my daughter. During my first pregnancy, I lost my hair. I was devastated. So I researched and discovered the lace front wig. While in London, I got some training related to the wig and brought it to the Nigerian market. People barely knew about it then and it was very expensive. It was only the wives of governors and high ranking women that were able to afford it then.
Today, there are different types of lace wig, in different quality and prices too. On the other hand, I now manage Cinnamon, an event/consulting company. I believe that Cinnamon is a concept that will grow big in the industry because it is a one -stop shop/event company that caters for every need when it comes to planning an event. For years, I have discovered my flair for managing events from house parties and later to managing friends and family's social functions. I realised that a well-managed event is always well appreciated so I thought about the whole idea of a one-stop shop event place which I noticed is not common in Nigeria, so I decided to roll out an event company.
So, how do you intend to joggle your wifely and motherly duties with these time consuming businesses?
By the grace of God, I am blending both businesses together. The lace wig is no longer new to the Nigerian market, so people come requesting for it but right now my passion is into Cinnamon, the event managing outfit. Again, I believe everything is all about planning; I know that going into event management can be very demanding but proper logistics are in place to achieve our achievable goals.
Managing my home front is not a problem for me because I have a husband who is supportive of my job and my work team is excellent and I have a good sense of time management. You know that time is money especially in this business of ours. My husband has been supportive because without his permission and advice, I don't think I will be in business. He is my mentor; he gives me the drive to press forward in whatever I want to do.
What is so special about Cinnamon?
Cinnamon is a unique and innovative concept. Before embarking on this project, I took my time to research on the various companies operating in the industry and what I discovered was that major companies operating lack what we are introducing into the event sector. At Cinnamon, we cater for everything that will add glamour to your party ranging from decoration, catering, venue, ushering, sound system, and photography.
We have professionals in these various fields which we introduce to our clients to give them quality service at affordable prices. At cinnamon, we ensure that nothing is overlooked.
Considering the level of competition in the industry, what strategies do you have in place to penetrate the Nigerian market?
It's really simple because considering the survey carried out by my team, we discovered that people see organising an event as being stressful because of the things involved in having a successful event. The stress of putting up any event is what we offer at Cinnamon. As we all know, organising a party can be stressful for the celebrant. It is for this reason that we offer services such as event decoration, photography, the catering and all that because we know that this sometimes brings set back when one of the major heads needed at the event comes behind schedule.
In a nutshell, we have professionals in this entire field that we usually recommend to our clients to ensure a tight and prompt service. We also understand the Nigerian traffic situation and for the fact that we are operating in Ikeja does not mean that we cannot meet up with our client's events. For instance, if our company gets a job to handle in a place like Ajah, all we need do is to set out as early as 6 a.m. because we have plans with our client that when your event is to start for 10 a.m., at worst 8:30 a.m., the venue, the stands, the ushers should be set before guests start coming in. As I said earlier, it's all about timing, determination and hard work.
What was growing up like for you?
I would say I had a normal childhood. I grew up like every other child. I was blessed with loving parents who taught my siblings and I the importance of love, integrity and discipline which has pretty much to do with whom I am as a person. I grew up with a lot of values. As a child I knew what I wanted, and it made me a bit rebellious. I wanted to be an engineer, but according to my father, it was not meant for women. He preferred medicine. So when I gained admission, I grabbed the first course I was offered: Accountancy. I didn't like Accountancy, but I preferred it to medicine. I focused on graduating, and came out with good grades.
Talking about values, which of your parents' values has brought you this far in life?
My parents taught me not to depend on anyone for anything. Nothing in life comes easy. Hard work is inevitable.
What value do you regret not accepting?
(Laughs) I don't think I refused any. The only thing I would say I learnt for myself in life is not to trust people. You learn that while climbing the ladder to the top. I trust only myself.
How did you meet your husband?
I met him when I was working with an airline. He was in the same line.
What was the attraction?
They say, when you meet your better half, you will always know. We were friends before we began dating. There was an undeniably strong attraction. From the day we became friends till we got married, we were never apart.
What is that thing that got you attracted to him?
It was more of a spiritual thing than a physical attraction. There was this magnet that pulled us together. We just had to see ourselves again and again. I think marrying him is one of the best decisions I've made in life.
What has marriage and motherhood taught you?
Marriage is fine and it has taught me a lot of patience, and motherhood is a great privilege. It's been quite an experience. I have learnt to be patient and to see life through a child's eye.
Do you have a role model?
Yes I do, Oprah Winfrey is my role model.