ACN To INEC: Electoral Materials Are Being Tampered With In Benue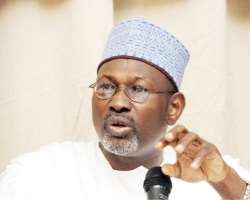 INEC CHAIRMAN PROFESSOR ATTAHIRU JEGA.
ABUJA, May 19, (THEWILL) - The Action Congress of Nigeria (ACN) has urged INEC's Resident Electoral Commissioner in Benue to immediately retrieve and warehouse the electoral materials used for the last elections in the state, saying they are being tampered with in the rural areas.
In a statement issued in Lagos on Thursday by its National Publicity Secretary, Alhaji Lai Mohammed, the party said those who rigged elections in the state are now carrying out illegal accreditation and other activities to justify the results they concocted.
''These election riggers are now working from the answer to the question, and it is necessary for the REC in Benue to move quickly to retrieve the electoral materials and ensure their safe-keeping. If this not done, it will amount to double jeopardy for those who were robbed of their votes,'' it said.
ACN said it is closely monitoring the situation, and will not hesitate to seek legal redress if INEC fails to act with the urgency the issue deserves.