Andy Uba! What Manner of Senator?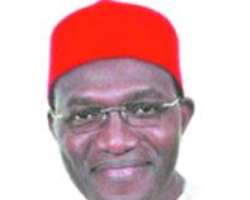 In a couple of days, Andy Uba, a man who raised the political adrenalin in Anambra State with his untoward ambition towards the Governorship mansion, will be sworn in as a senator in the 7th National Assembly, of the Federal Republic of Nigeria, with the hope that he will join other Distinguished Senators to make laws.      
  Unbeknownst to Nigerians, besides being a money bag, and an authority in devising devious means of looting state treasury, Andy Uba is bereft of ideas, and has nothing intellectually to offer. Sources who have worked closely with the former presidential aide, say he is unable to draft a letter talk less a Bill. Neither will he able to proffer any significant contribution in any debate in the four years he will reign as a senator.      
  Findings show that Andy Uba's favorite Igbo phrase is 'EGOLEH?' which in English means 'How much will it cost? Though Andy is not religious, sources close to one his mistresses, who is a clergy, says Andy Uba regurgitate the scripture 'money answers all things', like a kindergarten kid recite his ABC.     
 
  Many who have encountered him, says the first question, Senator Elect, Andy Uba asks when confronted with any difficult subject, is how much will it cost to make the issue disappear?      
  For a man who abhors sundry opinions, it remains to be seen how Andy Uba will cope with diverse opinion from his other 108 distinguished colleagues.It is believed that Andy Uba may have to wear a prompter, while in the senate, so that his brother, Ugochukwu Uba can guide him during senate debates.        
 
  Huhuonline.com investigation shows that the few weeks that Andy Uba was governor of Anambra state, he never attended to official matters, rather his older brother Senator Ugochukwu Uba, was running the affair of the state.        
  Visitors to Anambra state government between May 29th 2007 to when Andy was thrown out of office, affirm that Senator Ugochukwu was always seen sitting on the governors chair at government house and issuing directives, on the day- to- day activities of the state.      
  Our checks reveal that Andy Uba begged his elder brother, Dr. Ugochukwu Uba, not to seek a re-election to the senate in 2007, because he, Andy Uba had a gubernatorial ambition, and since he (Andy) was not competent enough to oversee the day- to- day administration of the state, he needed Dr. Ugochukwu Uba, a former lecturer from Nnamdi Azikiwe University, who also served as commissioner in Anambra state from 1999 to 2003, to govern Anambra state.      
  Sources who were privy to the arrangement disclosed that while Ugochukwu administered the state, Andy Uba, whose only interest was the title 'governor', painted Awka red with his bevy of ladies, while he sought ways to pilfer the state resources. But karma caught up with him, before he could plunder Anambra resources.      
  However, Andy Uba still wants to return to the Anambra state government house, sources close to him say his ascension to the senate is just a decoy. Andy hopes to use his tenure in the senate to repair his tattered image.      
  Recall that Andy Uba was charged for forgery, after 2007 gubernatorial elections for claiming that he obtained a PhD degree from Buxton University in 1996. The British government has since confirmed that the university does not exist within the boundaries of the United Kingdom .      
  Nevertheless, Andy Uba has since acquired another PhD degree from Nnamdi Azikiwe University . He is alleged to have paid a whopping one hundred million naira for the degree. Our checks show that the colossal amount was given to the school in the form a radio station.