Kano: Armed Robbers kill Three As Government Lifts Curfew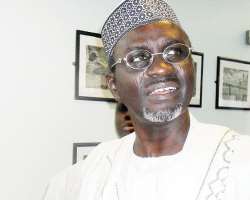 KANO STATE GOVERNOR, MALLAM IBRAHIM SHEKARAU.
KANO, May 17, (THEWILL) - Dare devil armed robbers Tuesday in the ancient city of Kano invaded the famous Kantin Kwari textile market killing three people including a policeman.
The robbers, according to an eyewitness stormed the market with two vehicles at about 5:30 p.m. shooting sporadically to scare the traders before embarking on their nefarious operation.
As a result of the fear, the traders and other customers ran for their lives while many were reportedly wounded.
"They came at a time when most people have started closing for the day. People were taken unawares as they moved from shop to shop looting money and wares. I can confirm to you that about three people including a police man were gunned down," Aminu Ibrahim said.
Ibrahim further stated that the operation which lasted for about 25 minutes saw the robbers looting money in different currencies as "they also made away with other wares as they escaped unmolested."
As at the time of filling this report, the Commissioner of Police, Alhaji Tambari Yabo who picked his call said, "We are still collating the facts and we are yet to inform the headquarters about the incident. I will brief you tomorrow morning," he told THEWILL correspondent in Kano.
Meanwhile, the Kano State Police Command has finally lifted the curfew imposed on the state, following the post election violence that rocked the ancient commercial city, shortly after the Presidential election, which produced President Goodluck Jonathan of the Peoples Democratic Party (PDP) as winner.
The State Police Commissioner, Muhammad Tambari Yabo, who announced this while speaking with reporters in Kano on Tuesday, said the decision was taken after a security meeting, which was chaired by the Kano State Governor, Malam Ibrahim Shekarau.
Yabo said the meeting was held to review the security situation in the state, pointing out that normalcy has been restored.
Despite the return of calm and normalcy, the police, he said, would intensify patrol in and around the metropolis to fish out criminals, warning that any individual or group found fomenting trouble would be ruthlessly dealt with.
He enjoined residents of Kano to be on high alert and report any threat to security, insisting that the police are combat ready for any eventuality.